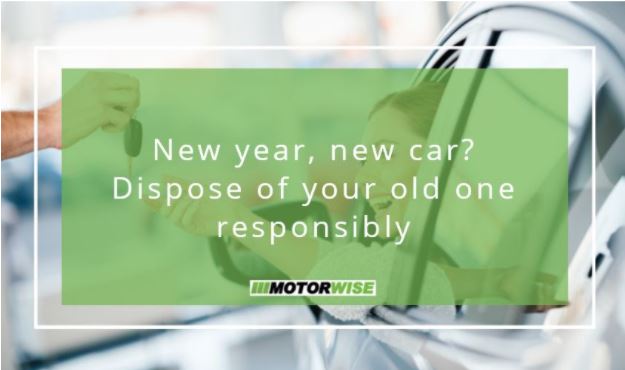 New year, new car? Dispose of your old one responsibly
For many, the new year means a new car, and that's always exciting. The issue becomes, however, what should you do with your old car? You might want to consider part exchanging your vehicle into your new one, but you won't get much money for it. You could try and sell it, but that can be time-consuming and stressful.
Consider instead using the services of professional vehicle recyclers who can collect your old car and help you dispose of it responsibly and easily.
Choosing the right service
It's important that you choose the right vehicle scrap service to dispose of your old vehicle. If it's no longer in roadworthy condition, or it's not going to be desirable on the used market for any other reason, it needs to come off the road. It's essential that you choose an ethical vehicle scrap service to process your vehicle, however.
For a long time vehicles weren't scrapped in a responsible manner. There are many potentially toxic substances within a vehicle, that need to be processed properly. It's also important that every recyclable element of the vehicle is recycled. That's why using a company like Motorwise is such a wise choice - every scrap collection service in our nationwide network meets our stringent standards regarding their scrap processing.
How do you do it?
The process couldn't be simpler. All you need to do is put your registration number into the Motorwise online quote tool. You will be given a quote in return, reflective of the vehicle's age and condition combined with prevailing scrap prices. Scrap prices change on a daily basis, and the quote you will be provided is always based on the most recently available market data to ensure you get the best price possible.
If you accept your details will be passed on to a scrap processing facility in our nationwide network, who will get in touch with you in order to organise your scrap vehicle collection. They will do whatever they can to fit your vehicle collection in with your busy lifestyle, and can often collect your vehicle either from home or work. Or you may even want to drive the vehicle to them yourself if it's more convenient. When your vehicle is collected you'll be paid - it really is as simple as that.
If you have started your new year off with a new car, dispose of your old one the easy way by contacting Motorwise.