How to scrap a car - a guide

How do I scrap my car?
If you are wondering how to scrap your car, you've found the right place! At Motorwise we know all there is to know about scrapping cars, as one of the U.K.'s largest national online scrap car services, we have years of experience and thousands of 5 star reviews. Scrapping your car (or van) is easy, just follow the steps below:
That's it! Scrapping your car is easy with Motorwise!
Read this guide to learn more about how we determine what a scrap car is worth


It really is easy to obtain your instant online scrap car quote, simply enter your scrap car registration and postcode for collection and Motorwise will instantly search for the best scrap car quote from our register of licensed and approved ATF's. Motorwise also offer their scrap car collection service free of charge.
If Motorwise believe your car may be 'better than scrap', we will ask for a few more details online regarding the car's condition and mileage before being presented with your immediate online car quote. This way, we can ensure we are offering you the very best price for your salvage car.
Motorwise is one of the U.K.'s largest online scrap car services. We process the sale of tens of thousands of scrap cars every year. Click here to take a look at our independent Feefo reviews:
What paperwork will I need to scrap my car?
It's extremely important to get the paperwork sorted properly when selling or scrapping a car. If legal ownership isn't transferred correctly, you remain responsible for the car and could be stung with a fine from the DVLA for not paying road tax. Plus, if your scrap car falls into the wrong hands and ends up racking speeding and parking fines – that will be in your name too!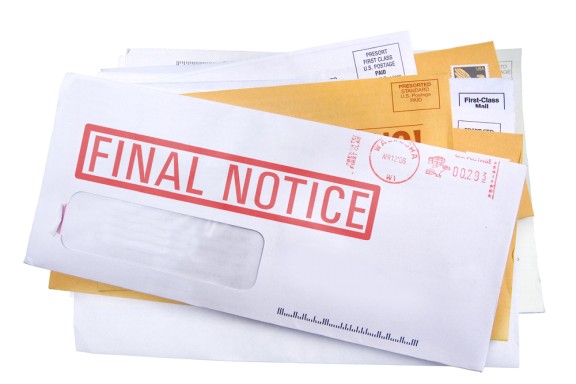 Many scrap car websites will incorrectly tell you that if you're scrapping your car you don't need to inform the DVLA as the ATF will do this when they produce a Certificate of Destruction (CoD)
WRONG! It is your legal responsibility to notify DVLA immediately you move your vehicle on. This includes if you scrap your car. You should do this by completing and returning Section 9 of the V5C (also known as the log book/registration document). Alternatively you can quickly and easily notify DVLA of the sale of your scrap car by visiting the DVLA website.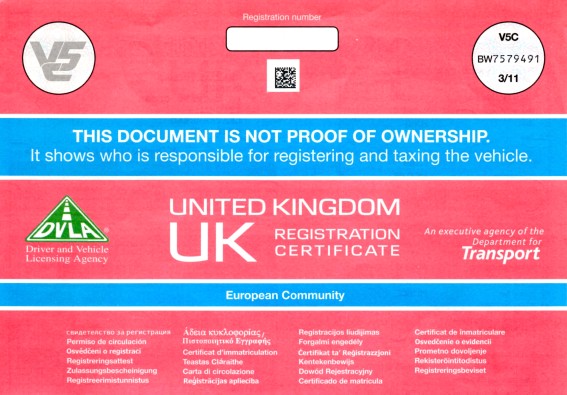 Proof Of Identification When Scrapping A Car
The Scrap Metal Dealers' Act 2013 requires the scrap car seller to provide the ATF with photo ID showing their name, date of birth and address. The ATF will need to retain a copy of this identification for their records.
A photocard driving licence is the preferred form if ID, however other forms of ID are accepted including:
A valid UK passport
A valid passport from a European Economic Area state
A valid UK biometric immigration document
A supporting document form the last 3 months must be supplied alongside any ID form other than a driving licence to confirm the seller's name and address. Accepted documents include:
A bank or building society statement
A credit or debit card statement
A council tax demand letter or statement
A utility bill (e.g. gas, electricity or water) but not a mobile phone bill
Can I be paid cash for my scrap car?
The Scrap Metal Dealer's Act 2013 has made it illegal to pay cash for scrap cars, so if anyone offers to pay cash for a scrap car, it's a red flag and should be avoided at all costs.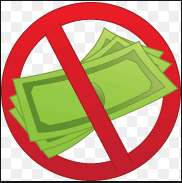 When I Scrap My Car, What is a Certificate of Destruction?
When a car is scrapped, the DVLA needs to be notified using a Certificate of Destruction (CoD)
CoD's can only be issued by Authorised Treatment Facilities (ATF's), such as those used by Motorwise. It is the ATF's responsibility to produce the Certificate of Destruction and submit this electronically to DVLA. It is not a legal requirement for the seller of the scrap car to be supplied a copy of the Certificate of Destruction but for your peace of mind, all Motorwise approved ATF's will supply a copy of the CoD upon request.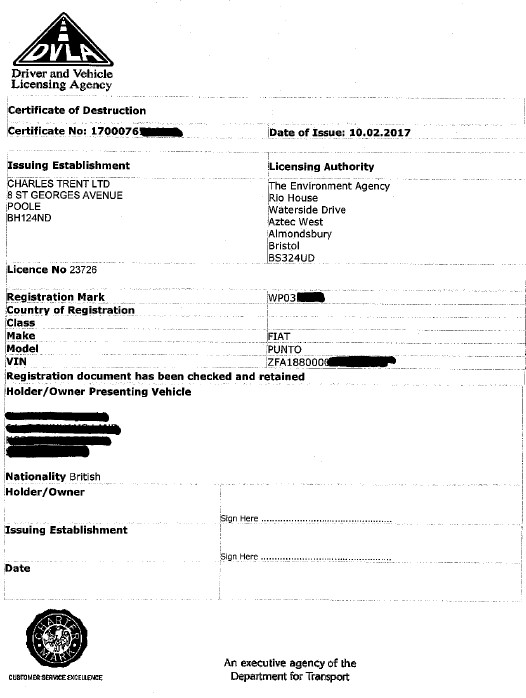 Can I remove parts before I scrap my car?
Some motorists wish to sell off parts, such as wheels, lights, tyres and battery before scrapping what's left of their car. Not only can this be time consuming, dangerous and not cost effective, it can leave you with a real problem when you try to scrap the remainder of the car.
You may have great difficulty finding an ATF who will collect and dispose of the stripped car. This may be because you have made the scrap car unsafe to transport, but in addition, if you strip car parts, you have devalued it and made it unattractive for the ATF to purchase. You will then be faced with the headache of having to arrange for the scrap car to be delivered to the ATF's site at your cost and, depending on what value is left in the scrap car, you may be faced with a bill to dispose of the remainder of the scrap car. After all, ATF's are businesses not charities and there are considerable costs to the ATF to legally and compliantly dismantle and dispose of the scrap car components. Our advice is to leave the car intact to guarantee a stress free disposal and the very best price for your scrap car.

Can I reclaim tax and insurance when I scrap my car?
As soon as you have released your scrap car to the ATF, notify DVLA of the sale using Section 9 of your V5C. This will automatically prompt DVLA to refund any complete months Vehicle Road Tax which will be sent to you as the last registered keeper. It's also important to call your car insurer and let them know you have scrapped your car. They'll generally give you the option of either transferring any refund towards insuring your next vehicle, or giving you a refund for any unused months. We hope that this blog provides you with all of the information you need if deciding how to scrap a car.