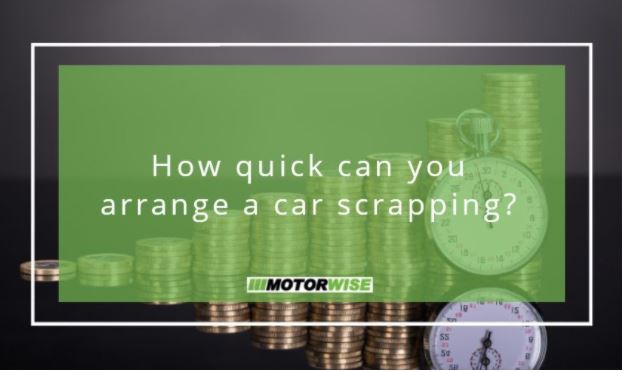 How quick can you arrange a car scrapping?
Maybe it's a fixer-upper with a SORN attached to it sitting out back, or an end-of-life vehicle (ELV) that will cost more to repair than replace - either way, when you've decided to scrap your car, you'll want to complete the process quickly. From the time it takes to get a quote to having your scrap car collected, you'll find everything you need to know right here.
How long does it take to get a quote?
Quotes for scrap cars can be received in seconds. All you need for an instant idea of how much money you'll receive for your vehicle is its registration number and your postcode. Enter the details in an online app on your scrapper's site and find out what your old car is worth. Remember, cash payments made for scrap are illegal, so in most cases, you'll receive your funds directly into your account instead.
How long does it take for a scrap car to be collected?
After you've accepted the online quote offered for your scrap car, you'll typically receive a call within four hours to arrange a collection. For the most part, your car will likely be collected within two days of arranging a convenient pick-up time. Many recycling centres will be able to collect scrap cars over the weekend, but if you need this service, inquire while arrangements are being made for a pick-up.
The recycling centre that collects your car will issue you with a receipt and even fill in your V5C for you and give you section nine to send to the DVLA. This is a vital step to inform it that vehicle ownership has passed from you to the Auto Treatment Facility (ATF) where your car will be recycled. This process can also be performed online.
Remember to remove any personal items from your scrap car prior to it being picked up and ensure it's easy to access.
Specialists in scrap car collection
If you're set and ready to book your scrap car collection, you can depend on our team at Motorwise. Offering a smooth and seamless scrapping service, we always keep the process painless so you can sidestep any stress. From the best prices paid for scrap to arranging transport to the ATF, you couldn't be in better hands. Contact us today to book a collection or get a free quote now for your car.