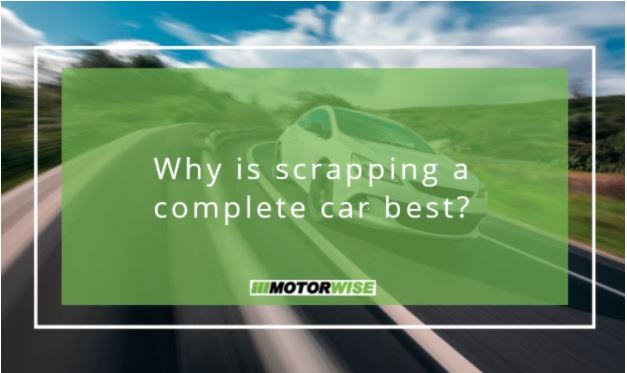 Why is scrapping a complete car best?
Although the condition of a car you want to scrap isn't always important to scrap yards that regularly crush cars involved in collisions, vehicles missing parts can cause problems. In the following sections, we'll look at some important reasons why scrapping your car when it's complete is a wiser move than trying to arrange its destruction when parts are not present.
Selling the complete article
When you arrange to scrap your car, you're effectively selling the vehicle to an Auto Treatment Facility, or ATF for short. When you receive your quick quote online by entering your reg and postcode, the value of your vehicle confirmed to you will be based on it being complete. The payment you receive for scrap is based on weight, so if a heavy part is missing from the vehicle it will drastically reduce how much the car is worth.
In order to make scrap car collection equitable ATFs often require cars to be complete, and if the driver they sent to pick up your vehicle sees parts are missing they may decide they won't collect it as it's not worth their time.
Scrap cars need to be accessible for collection
For scrap vehicles to be picked up and taken for recycling, those collecting must be able to easily access them. While part of this means they must be on a flat road surface that can take the weight of the collection vehicle, another key element of this rule requires cars to have their wheels and tyres in place so they can be driven on board. If when collection day rolls around your car is missing its wheels the driver may refuse to pick it up but still make you pay for the inconvenience and waste of their time.
To ensure collection of your scrap car goes off without a hitch, selling it intact is always the best policy.
Experts in scrap car collection
At Motorwise, we specialise in making scrapping your vehicle a simple and straightforward process that ensures you get paid the right rate for your scrap car's weight. Whether you want an end-of-life vehicle or a car that's been written off in a wreck recycled you can rely on us to receive the correct price for your scrap. Contact our professional team today or visit our website to secure an instant quote and calculate your car's worth.