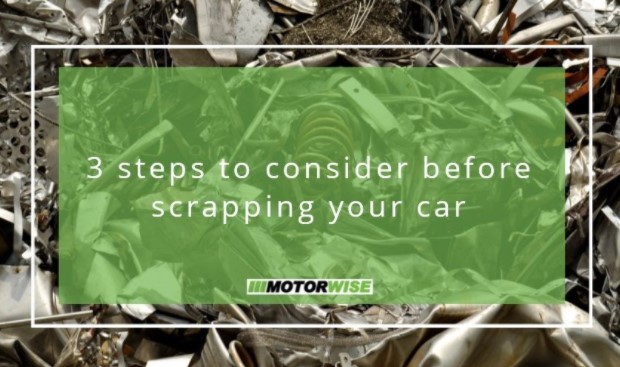 3 steps to consider before scrapping your car
Arranging to have your end-of-life vehicle collected doesn't need to be complicated but there are some points to remember before collection day. Below we'll look at three useful tips to consider before you make the call to have your old car taken away for recycling.
Apply to keep your registration number
Whether you have an expensive personalised plate that resembles your name or favourite football team, or simply for sentimental reasons, if you wish to retain your reg you must apply before scrapping your car.
The swiftest way and also the easiest is to use the DVLA's online retention service. Complete the online form using details from your scrap car's V5C document and use your credit or debit card to pay the fee of £80. On completion, the DVLA will automatically confirm you've retained your reg and within two weeks they'll issue you with your official V77 retention certificate which will arrive by post within a fortnight. Your scrap car will be assigned a new registration number and you can arrange to have it destroyed. If you don't have access to a computer, don't fret, the same process can also be completed by post with a V317 form.
Find out the value of your scrap vehicle
It's a wise idea to find out how much your car will be worth as scrap to avoid any disappointment. Scrap car calculators online can give you an instant quote and all you need to enter is your vehicle's registration number and your postcode where the collection will take place.
Clear your scrap car of personal effects
While you don't need to get a car serviced before it gets collected by the Auto Treatment Facility (ATF), it's essential that you remove all your personal belongings from the vehicle. Check obvious places like the glove and door compartments and trunks but don't forget to look beneath your seats and under the mats in the footwells for any miscellaneous items you might have dropped and wish to keep.
Convenient collections easily arranged
Experts in auto scrapping, at Motorwise we've developed a simple and straightforward system for car disposal. Within a few hours of receiving your free quote, you'll get a call to arrange a pick-up, with scrap car collection typically taking place within two days of booking. Get in touch with our dedicated team today for any assistance required.