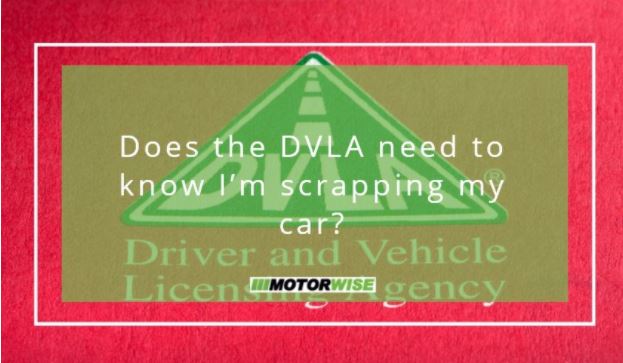 Does the DVLA need to know I'm scrapping my car?
If your vehicle has reached the end of its life and you've decided to scrap it, informing the Driver and Vehicle Licensing Agency that you have done so is absolutely essential. In the following sections, we'll explore why this is and what the consequences can be if you don't, we'll also show you the quickest way this can be completed.
Why do you need to tell the DVLA what you are doing?
As the registered keeper of a scrap car, you are legally required to inform the DVLA if you transfer its ownership at any point. When you choose to scrap a vehicle, you are essentially selling it to the Authorised Treatment Facility (ATF) that is recycling it.
What happens if you fail to let the DVLA know you have scrapped your car?
The UK Government website states very clearly in bold typeface that if you don't follow correct protocol and let the DVLA know that your car has been scrapped, you can face a massive fine of up to £1000.
How do you inform the DVLA?
When it's time to transfer ownership of your car to the Authorised Treatment Facility, the registered keeper must fill in your specific details and the details of the Authorised Treatment Facility to whom the vehicle was sold on section nine of the V5C document, sometimes called the registration document or logbook.
Afterwards, as the scrap car's previous registered keeper, it is your obligation to send section nine to the DVLA instantly, notifying them of the effective transfer of vehicle ownership. There is an even faster way to complete the task however, you can also notify the DVLA immediately online via its website.
Do you need a Certificate of Destruction to prove you scrapped your car?
When your car has been scrapped the ATF will issue a Certificate of Destruction. Some ATFs will issue you a copy, however as the seller of the scrap car, you are not required to obtain a copy of this documentation.
Quick and easy scrap car collection every time
With extensive experience of auto scrapping, at Motorwise we offer a straightforward and simple system for car recycling. Within hours of receiving your free scrap car quote, you'll receive a call to arrange a collection with a scrap car pick up commonly taking place within a couple of days of booking. Feel free to contact our professional team today for any help required.