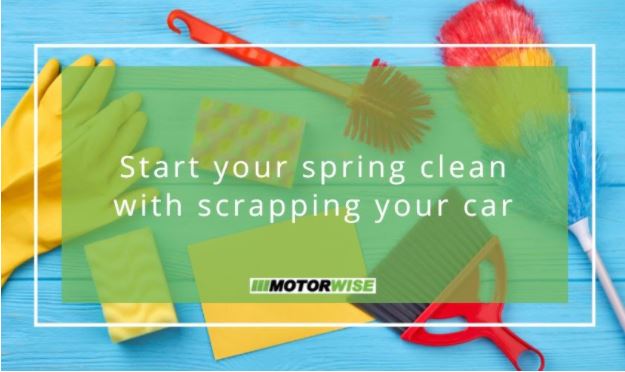 Start your spring clean with scrapping your car
Spring cleaning can be ideal for a fresh new start, whether you're tidying up around your home or outside in the yard. If there's a SORN car lurking in your garage or an old banger that failed its last MOT creating an eyesore on the drive, why not add it to your spring-cleaning checklist? While you may have kept your car because it seemed a tiresome task to get rid of it, this chore doesn't have to be difficult.
In the following sections, we'll explore why scrapping your car is easily achievable and the right thing to do when you want your space back that's currently occupied by an out-of-date motor.
Simpler solutions for scrap car collection
While you might have considered selling your old car online or advertising it for sale in the local papers, there's probably a good reason you haven't yet. From the inconvenience of handling calls and viewing visits from potential buyers to haggling over the price and avoiding being ripped off, dealing with your end-of-life vehicle on your own can involve a lot of work.
Fortunately, professional scrap car collection services can ensure that your spring clean goes to plan swiftly and efficiently. After receiving a quick quote online, your car will be picked up within days and taken away to be scrapped and you'll be paid for its weight at a fair price.
Protecting the planet
Rather than selling your car online where it may be broken down for parts and its shell disposed of illegally, choosing a legitimate scrap car service will ensure your vehicle is recycled properly. Cars collected by scrap car services will always be taken to Authorised Treatment Facilities (ATFs) where they are effectively recycled so the metal and plastic parts they're made of can be separated and reused.
Contact a scrap car collection service for a spring clean
If you're ready to remove your old scrap car from your spring-cleaning to-do list, you can visit us online for a free, no-obligation quote. Once you're happy with the price you'll be paid for your vehicle, we'll arrange a collection, and a pick-up will be on its way directly to your doorstep on a day that suits you best.
Get in touch with our expert team at Motorwise today for expert advice on scrapping your car or to book in a collection.