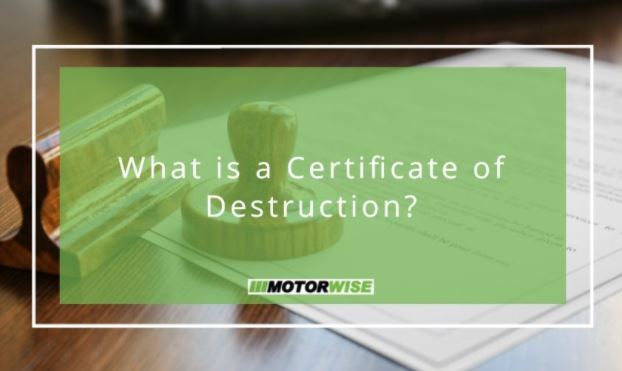 What is a Certificate of Destruction?
If your car has become an end-of-life vehicle, you may have made the decision to have it scrapped at an Authorised Treatment Facility (ATF). After your car has been safely de-polluted and disposed of with all metal and plastic parts recycled, the ATF will issue a document called a Certificate of Destruction. In the following sections, we'll explore this certification, looking at when they're issued and to whom.
Defining a Certificate of Destruction
A Certificate of Destruction, or CoD for short, is a dedicated document that is issued by the Authorised Treatment Facility and sent by them to the Driver and Vehicle Licensing Agency (DVLA). The certificate provides proof that you have disposed of your vehicle correctly and legally, preventing you from paying any penalties. ATFs are legally obliged to issue a Certificate of Destruction as soon as a car has been destroyed and properly recycled.
Do car owners receive a CoD?
After an ATF has completed recycling your scrap car, they will send a CoD directly to the DVLA. When an ATF recycles your scrap car, you are effectively selling the vehicle to the operation, making you no longer the legal owner, therefore you won't necessarily be issued a copy of the CoD. However, you are entitled to acquire a copy for your personal records, should you wish to.
Legal requirements of scrapping your car
Your last act as the vehicle's previous owner is to inform the DVLA of the sale by completing the appropriate yellow section of your VC5 logbook and posting it to their headquarters in Swansea. Alternatively, a quicker way to complete the task is online, via the DVLA website
Scrap your car today
If you have a vehicle that has become too expensive to fix and is ready to be scrapped, Motorwise can help. Visit our website for a free quote and find out how much you can get for your scrap car. Once you've accepted the price that you'll be paid for your scrap car, we'll book a collection time that's convenient for you and the ATF will send a driver to pick it up.
Contact us today for expert advice on scrapping your car or to arrange a collection.