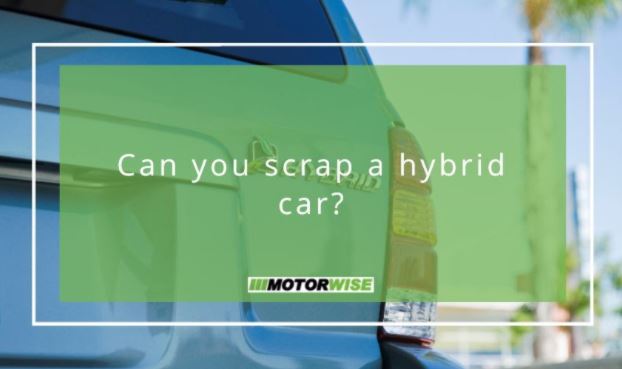 Can you scrap a hybrid car?
While electric and hybrid cars might still seem like the vehicles of the future, some of the earliest hybrid models, like the Toyota Prius, are now more than 20 years old. So, when a hybrid vehicle comes to the end of its life, are you able to scrap your car, and is it safe to do so?
What makes a hybrid car different?
A hybrid uses both a conventional petrol engine and an electric motor to drive the vehicle. This helps lower the car's overall CO2 output and improve fuel consumption, as it can switch between using the engine and the zero-emissions electric motor.
The electric motor is powered by a lithium-ion battery, which in the case of a plug-in hybrid, can also be recharged using an external power source. When hybrid cars were introduced in the late 1990s, they broke the mould, but does their more complex powertrain make them suitable for being scrapped?
Can you scrap a hybrid car?
The good news is that you can scrap a hybrid car in the same way you would a petrol or diesel vehicle. For the owner, this means using a service like Motorwise to simply and easily arrange for the vehicle to be scrapped.
Under the End of Life Vehicle Directive, Authorised Treatment Facilities (ATFs) are required to recycle at least 95% of any vehicle. This figure is no different for a hybrid car, and in recent years major steps have been taken to ensure that the majority of the vehicle's lithium-ion battery pack and electric motor can be safely recycled.
Is it safe to scrap a hybrid car?
It's true that a hybrid vehicle's electrified powertrain poses a greater risk than a conventional petrol or diesel car when being scrapped. However, ATFs are expertly trained in recycling electric and hybrid vehicles, to ensure that everyone involved in the process is as safe as possible.
How do you scrap a hybrid car?
Scrapping your hybrid car with Motorwise is quick and hassle-free. By entering your vehicle's registration number and your postcode into our online calculator, we will provide you with a free and instant quote, which includes collection. If you want to go ahead, we will talk to you to arrange the collection of your vehicle, where it will be transferred to a licensed ATF for recycling. Following this, you will receive the agreed payment amount to put towards your next car.