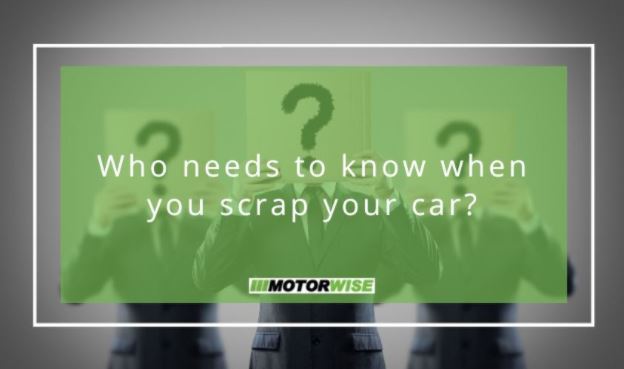 Who needs to know when you scrap your car?
When your car reaches the end of its usefulness and you've chosen to scrap it, you'll need to let both your insurance provider and the Driver and Vehicle Licensing Agency (DVLA) know after it's been scrapped. In the next sections, we'll discuss why this is important, when to do this and what can happen if you don't.
When should you tell your insurer?
Even if you're not using your scrap car, if it's parked on the road, you must have motor insurance in place. When you're scrapping your vehicle, you'll need to contact your insurer to cancel your cover, but it's best to wait until it's collected. If it should be damaged or stolen while waiting for the Authorised Treatment Facility (ATF) to collect it, you won't be able to claim it in your insurance.
Why must you inform the DVLA?
As the scrap vehicle's registered keeper, you're legally bound to tell the DVLA when you transfer ownership of your car to anyone else. When you choose to scrap a car, you're officially selling it to the ATF that is recycling it and signing over ownership.
The Government guidelines for scrapping cars clearly state that unless the DVLA is told your vehicle has been scrapped, a fine of £1000 can be issued.
How can you inform the DVLA?
When you transfer ownership to the ATF, you must complete the relevant transfer of ownership slip on your V5C and you must then send the completed section immediately to the DVLA, informing them of the ownership change.
Alternatively, you can complete this task online through the Government website. Afterwards, you'll receive an email confirmation, a letter that confirms you're no longer the car's owner and a refund for any complete months remaining on your road tax.
Simple scrap car collection at your service
If you're looking for a quote on how much you'll receive for scrapping your car and a quick stress-free collection, you can count on Motorwise.
We offer the best prices for scrap whether your car has become damaged, faulty or has simply reached the end of its life. Taking pride in offering a painless and smooth service, we aim to take the hassle out of scrapping your car. Contact us today to book your scrap vehicle collection.