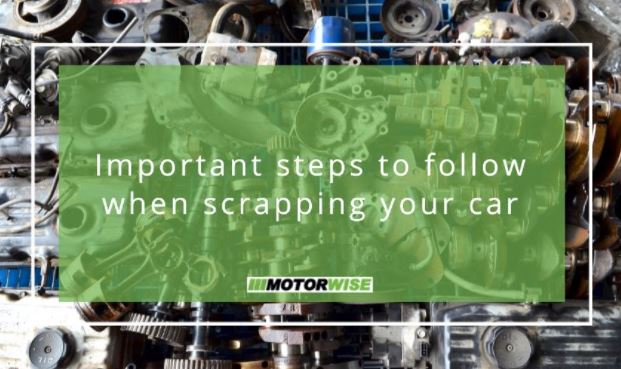 Important steps to follow when scrapping your car
Scrapping a car does not need to be a complicated process. When you make the decision to scrap your car, whether it has been written off or simply reached the end of its natural life, there are a few logical steps you can follow that will make the whole process a quick and easy one.
Apply to take the registration plate off the vehicle
If you want to keep your registration number, especially if you have a sentimental attachment to it or you are using a personalised plate that you wish to reuse, contact the DVLA and inform them of your wishes. You can either assign the registration number to a different vehicle immediately or retain the number for use at a later date.
Consider whether you want to remove any parts from the car
There may be parts of the car that you wish to keep, such as the engine, gearbox, wheels or an expensive radio. If you choose to remove parts, it is a good idea to declare the car off the road while you do this, and inform the DVLA of this intention. If you register the car as off the road (SORN), it must be kept on a private driveway or garage and not on a public highway. However, it is important to keep in mind that removing too many parts will lower the car's weight, which will ultimately reduce its scrappage value.
Scrap your vehicle at an ATF
It is important to choose a trusted authorised treatment facility (ATF) such as those who work with Motorwise to scrap your car. At Motorwise, collection is possible too to make it even easier and stress-free to scrap your car.
Handing over the vehicle logbook (V5C)
When your ATF takes the car, you should also give your V5C to them too, although it is important to retain the yellow sell, transfer or part-exchange section of the book. However, do not panic if you don't have it. While V5Cs are preferable for this process, they are not essential and the car can still be scrapped without them.
Notify the DVLA that the car has been sold for scrap
Complete the yellow section of the V5C and send it to the DVLA or use the DVLA website to notify them by using the document reference number on the V5C. If you don't have your V5C, you can write a letter to the DVLA instead. Your ATF will send your Certificate of Destruction directly to the DVLA, although you can request a copy of it.
For trusted and reliable car scrapping, contact Motorwise.