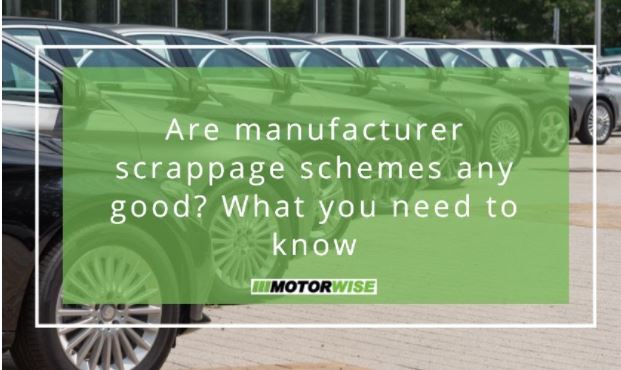 Are manufacturer scrappage schemes any good? What you need to know
The likelihood of another national government-backed scrappage scheme remains low, so car manufacturers have been busy introducing their own programmes in recent years.
Scrappage schemes were initially introduced in the UK in 2009 and ran for a year or so. That was intended to stimulate demand in the automotive sector in the wake of the financial crisis. It worked and sales of new cars rose.
There have been rumours of a fresh scrappage scheme in the UK, but in late 2020, the government ruled it out. There are around 20 current scrappage incentives from the world's biggest car brands and there are also some local schemes in operation. But are car scrappage schemes worth it? Here's what you need to know.
They won't hand you cash
Manufacturer scrappage schemes tend to offer a discount against the cost of a new car. They're very much like a trade-in deal and some don't even scrap your old vehicle anyway. That means you won't be handed a nice big cheque for your old motor.
You can get a decent discount on the price of a new car though. Some schemes could net you as much as a £5,000 discount. But there are plenty of caveats to that.
Consider your options
If your car is worth over £2,000, you may well pay less by part-exchanging your vehicle than opting for a scrappage deal. Also buying a nearly new car might work out to be a cheaper option overall.
Every scheme has different eligibility rules
Every deal is different, so you will need to shop around to pick the one that best suits you and the car you're looking to move on. Most require that the vehicle is at least seven years old (nine in some cases).
All of the manufacturer scrappage schemes are designed, in part, to encourage motorists to leave their older, polluting car behind. Eligible vehicles will usually have to meet a particular emissions standard, which is normally category four or lower.
You will also be required to have owned the car for a minimum period of time. This can be as short as 90 days, but some will only accept registered keepers who have had the car for six months.
Scrappage schemes only offer certain new models
Even if you have a fancy for a certain manufacturer, you will still need to check that the model you have an eye on is part of the scrappage scheme.
It's also likely that opting into a manufacturer scrappage scheme will automatically exclude you from other offers. This will include low-finance deals from certain manufacturers.
Is it better to just scrap my car?
To scrappage scheme or to scrap? That is the question.
Many of the current scrappage schemes in operation expire during the course of 2021 so you may need to be quick to take advantage of one.
You should be able to bag a nice discount by access a scrappage scheme. However, at the end of the day, to access a scrappage scheme means buying a brand new car. That option is not appealing to many people nor even within the means of plenty more.
Realistically, if you're running around in an ageing car that is near the end of its life, chances are you won't be looking into the investment of a brand new motor. Plenty of them require a valid MOT and for the car to be in a roadworthy condition. If your car is already past the point of being eligible, you may be better off simply scrapping it and investing the proceeds in a part exchange.
If you're interested in scrapping your car, get in touch with our team at Motorwise today.