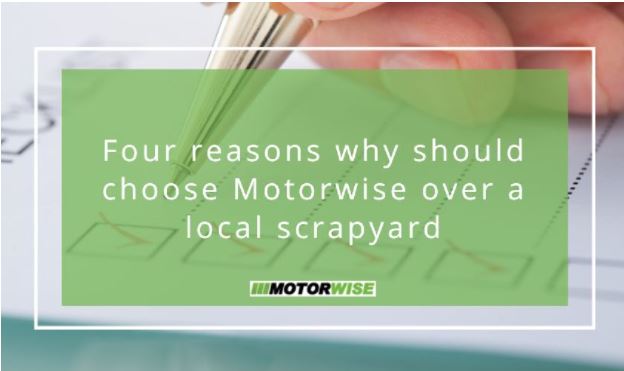 Four reasons why should choose Motorwise over a local scrapyard
When your car finally reaches the end of its usefulness, you will have a choice to either sell or scrap it. Scrapping is the best option for anyone looking to dispose of their car because you can get more money, and it is much safer for the environment. Finding a good scrap yard is critical, so here are four reasons why you should choose Motorwise over a local scrapyard.
Compliance
When scrapping your vehicle, it is crucial that you only use an authorised treatment facility that is registered with the Environment Agency. This helps ensure that your car is disposed of in a safe manner that does not harm the environment. Motorwise has an extensive network of authorised treatment facilities licensed either by the Environment Agency, Natural Resources Wales or the Scottish Environment Protection Agency. After your car has been scrapped, Motorwise will issue you an authentic Certificate of Destruction as required by the law.
Convenience
If you can't drive your car to the scrapyard, that should not stop you from recycling it. Motorwise has a speedy nationwide car collection service, and we do not charge any extra costs for it. All you have to do is ensure that your car can be safely accessed by a standard recovery vehicle. If you prefer to drop off your car rather than having it collected, we will provide you with details of one of our authorised treatment facilities through your instant online quote.
Competitive prices
The amount of money you make from your scrapped vehicle is determined by several factors. The make, model and year of production determine the current value of a car and its parts. Commonly driven brands have a higher demand for parts, and this helps increase their value. The current price of scrap metal in your region also helps determine the price of a junk car. Lastly, the condition of your car decides what a buyer will be able to do with it. If your scrap vehicle is in fairly good condition, then you should be able to get more money. All that said, where you decide to scrap your car ultimately determines how much money you get. Compared to local scrap yards, Motorwise offers the best prices in the country.
Great customer service
Great customer service goes a long way in ensuring that customers have a pleasant experience during the entire car scrapping process. At Motorwise, we provide telephone and email support throughout your car's journey, keeping you in the loop at every stage. Read reviews from our customers to see what they had to say about our services.
If you would like to try out our vehicle disposal services, please contact us for more information.