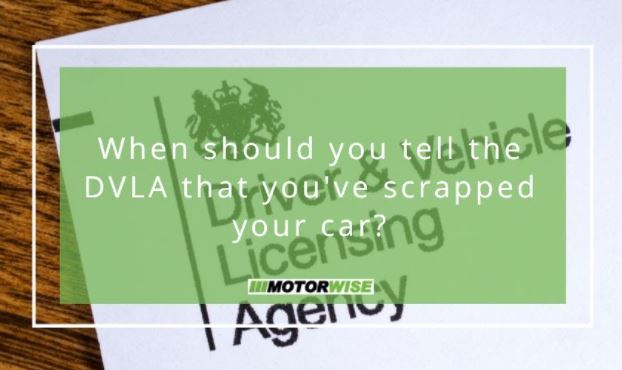 When should you tell the DVLA that you've scrapped your car?
At Motorwise, we do our best to make the scrap car collection process as simple and efficient for our customers as possible. Though we handle as much of the hard work as we can, there is something you need to remember to do yourself, however - telling the DVLA you have scrapped your vehicle.
But when is the right time to do so, and how do you do it?
Do you need to tell the DVLA at all?
Yes. It's your legal responsibility to inform the DVLA of any change in ownership regarding your vehicle. Just as you would have to tell them that you've sold your car, or taken it off the road, you will have to tell them that you have had it taken away by a vehicle disposal service.
When should you tell the DVLA?
You should tell the DVLA as soon as the transaction has been completed and your vehicle has been put on the collection vehicle ready to be taken away. Ensure your scrap carrier is happy to take the vehicle first, as sometimes issues with accessibility or discrepancies in the vehicle's condition may cause them to refuse to accept the vehicle. Once your vehicle has been assessed and loaded, however, you can inform the DVLA.
How do you inform the DVLA?
Telling the DVLA about a change of vehicle ownership is easy. All you need to do is complete Section 9 of your V5C form and post it back to the DVLA. When your vehicle is collected, the scrap collector will fill in their details for you and you can send it off. Alternatively, you can go to the DVLA website and do it from there. Do not put Motorwise's details into Section 9, because you're actually transferring ownership to the vehicle recycling centre that has collected your vehicle, not us. If you need any more information or clarity, don't hesitate to ask the scrap collector.
What if you don't have the V5C?
If you don't have your V5C, you should write a letter to the DVLA explaining the situation. Provide as many details about your vehicle as possible, including the make, model, colour, year, registration number and VIN if possible. Also, give them the details of the carrier who has collected the car.
Making collecting your scrap car easy
Now you know how easy it is to tell the DVLA, don't hesitate to get your free quote for scrapping your car from Motorwise today.