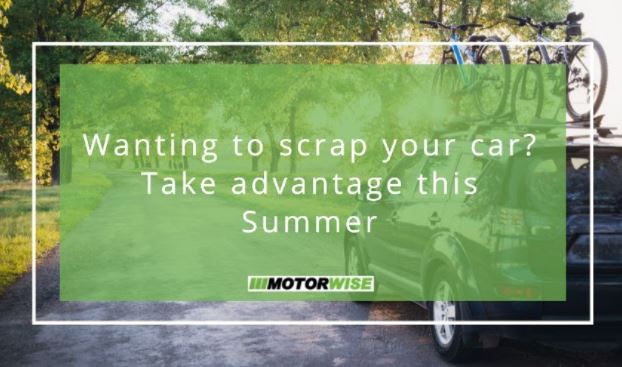 Wanting to scrap your car? Take advantage this Summer
If you're looking to scrap your car with a reputable car removals company, sometimes it can be hard to actually get the ball rolling. Whether it's due to hefty work commitments, lingering doubts thanks to sentimental value, or the endless cycle of "I'll do it next week instead", your car can be sat gathering dust and rust for a variety of reasons.
This summer really is the ideal time to scrap your car in the UK. Here at Motorwise, we've provided just a few of the most convincing reasons why the upcoming months are the time to salvage your car.
Quicker turnaround times
If you've been debating whether or not to scrap your car, the summer is the perfect season to do so if you're looking for a faster collection. This is because there are fewer dangerous conditions for car recyclers to drive in, such as ice, sleet, snow, or torrential rain. A delay in the picking up of your car also slows down the rest of the scrap metal industry, which is unfortunate for all within the trade. Car salvagers will jump at the chance to take a trip to pick up your vehicle while the sun is shining!
Higher industry demand
One of the benefits of scrapping your used car rather than selling it is that your vehicle gets to benefit many other sectors, including the construction industry. Summer is the season when most construction jobs begin to seriously make progress, due to the better weather and longer days. Because of this, the demand for scrap metal rises, so why not have your vehicle scrapped to possibly contribute towards a local community project?
Free up space for better things
If your car is sat in your garage, on your driveway, or elsewhere, all it's doing is continuing to use space that could be better utilised. Why not arrange a scrap car collection so that your garage can be converted into a modern hobby space for yourself or your family? Likewise, don't let your old vehicle simply melt onto your driveway; have a used car scrapper collect it and use your newfound space as an entertainment area for family and friends!
Trust Motorwise
At Motorwise, we're a licensed and trusted car scrap company that you can rely on for a swift collection, fair prices, and great communication. Get in touch with our team today to learn more about scrapping your car with us.