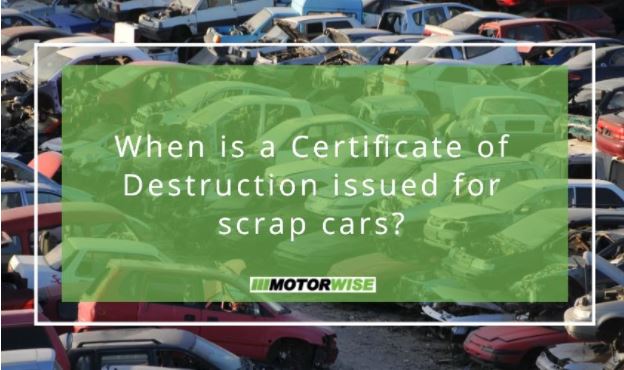 When is a Certificate of Destruction issued for scrap cars?
If your vehicle seems to be in the shop for repairs more often than not, you may decide it's time to scrap it. UK law states that this must be carried out at an approved recycling centre known as an Authorised Treatment Facility (ATF).
There, your vehicle will be de-polluted safely and disposed of legally with every part possible recycled. The ATF is responsible for producing a Certificate of Destruction (CoD) confirming recycling has been completed. In the next sections, we'll examine this document, looking at when it's issued and who will receive a copy.
What is a CoD?
A CoD is a document developed by the Driver and Vehicle Licensing Agency (DVLA). This dedicated certificate is only rolled out to licenced ATFs that can safely process and recycle the metals, plastics, and other materials of a scrap car. The certification provides proof that the end-of-life vehicle has been lawfully and properly disposed of, ensuring its owner will not pay a penalty. ATFs are bound by UK law to issue CoDs as soon as a vehicle has been efficiently destroyed and correctly recycled.
Do vehicle owners get a copy of the CoD?
When the ATF has finished recycling a scrap car, it sends the associated CoD straight to the DVLA. While car owners are not legally required to acquire a copy of the CoD, they are allowed to request one to keep on file for themselves, should they choose to.
Legal requirements for scrap car owners
While you won't need a copy of your scrap car's CoD, you will have one last duty to perform regarding your vehicle. You are legally obliged to inform the DVLA that your car was scrapped. This task can be performed by either using the DVLA's online portal or by completing your VC5 logbook's yellow section and mailing it to the agency's Swansea address.
Scrap my car today
If your car's constant repairs are becoming too costly and you want to scrap it, at Motorwise, we're ready to help. Drop by our website for an instant quote to see how much you'll receive for your scrap car. After you've accepted how much you'll be paid for your car, we can then book a collection time to suit your schedule and an ATF driver will come by to pick it up.
Get in touch today for any scrapping advice required.