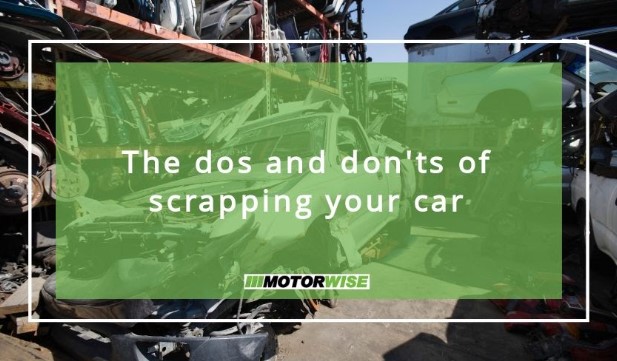 The dos and don'ts of scrapping your car
With the rise of Google and internet marketing, you can type 'scrap my car' into any search engine these days and be greeted by a plethora of sites offering instant quotes and fast scrapping. But how do you know which is safe and trustworthy to use, and what are the regulations and laws surrounding scrapping your car? Here are the dos and don'ts of car scrappage:
Authorised treatment facilities
It's important to note that since 2005 you are legally required to ensure your car goes to an Authorised Treatment Facility to be scrapped. Any scrapyard is required to have a licence that has been issued through the Environment Agency, Natural Resources Wales or Scottish Environment Protection Agency. This is a safety measure designed to ensure scrapped vehicles are disposed of in an environmentally safe manner, with recyclable elements duly recycled, and potentially toxic aspects like engine parts, gearbox oil, and battery acid disposed of safely.
Car manufacturers are actually responsible for making sure the cars they produce can ultimately be disposed of safely and that as many elements of them as possible can be recycled.
Informing the DVLA
Next on your to-do list should be informing the DVLA that you have sent your vehicle to be scrapped. You'll need to find your V5C ownership document for the car and follow the instructions included in it before sending it off to the DVLA. This will confirm to them that you are not responsible for the car any longer. If you have misplaced your V5C, you do not need to apply for a new one, instead you should write to DVLA to provide the registration number, details of the Authorised Treatment Facility and the date of transfer.

Checking your tax and insurance
If you have paid up on tax or car insurance beyond the point at which your car goes for scrapping, you can reclaim the money for unused months. Any overpaid car tax will automatically be refunded by DVLA once you notify them of the transfer of ownership to the Authorised Treatment Facility. You should contact your motor insurer to cancel your insurance policy for the remainder of the year.
Your certificate of destruction
Finally, your scrap dealer will notify the DVLA that you are no longer the owner of the car. They will produce and send a Certificate of Destruction to DVLA.
A note on cash sales
Be wary of a dealer who offers to pay you cash to recycle your car. The Scrap Metal Dealers Act 2013 was introduced in order to combat the theft of metal, and in particular copper that is taken from railway lines, which means that it is illegal for a scrap dealer to pay cash for your car. Payments should be made via cheque or electronic payment directly into your bank account. They will also ask you for proof of your identification, such as your passport or driving license.