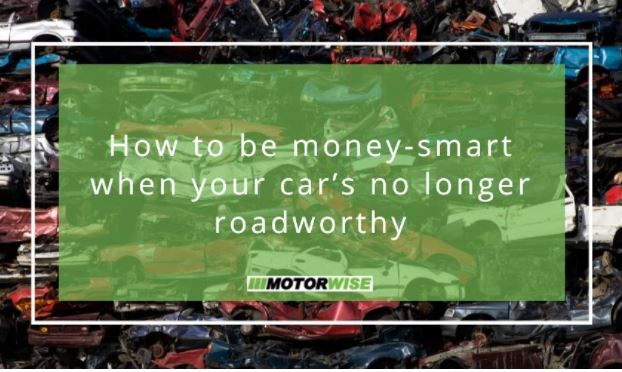 How to be money-smart when your car's no longer roadworthy
Most vehicles manufactured today have a design life of around 150,000 miles, so if you keep them well maintained, you can expect at least this much service. Car purchases are perhaps the second most significant investment people make in a lifetime. So, it's understandable that when a vehicle is no longer fit for the road, most car owners are keen to recoup some costs.
In the following sections, we'll explore how you can save and make money when your car has outlived its usefulness.
Make the decision to scrap
When cars start to show signs of wear and tear, they can end up failing MOTs and require constant repair work to keep them on the road. This can be an expensive experience for many car owners who find their venerable make and model is wracking up quite a bill over time.
To start saving money on urgent repairs, replacement parts, emergency tows, having to hire a car while yours is in the shop and paying for taxis, admit to yourself: "It's time to scrap my car."
While you'll need to buy a new vehicle, the savings you'll make of having a car you can count on will add up in time.
Getting paid for your scrap car
Cars here in the UK must be disposed of safely and professionally at Authorised Treatment Facilities (ATFs) or car owners can face legal prosecution. The good news is that you'll be paid for the weight of your car's recyclable metal and make some money back to put towards your next vehicle.
This process doesn't have to be complicated. Professional scrap car collection services will provide you with a quote and arrange for your unwanted car to be picked up. All you need to do is sit back, relax and wait for payment. As soon as your vehicle has been successfully collected, you'll be paid directly into your personal bank account.
Sell your scrap car whole
While you might be tempted to sell parts of your car off separately before scrapping, this will reduce its weight overall, which in turn will lower your payment. Selling your car to the ATF as a whole is easier and ensures you receive the most money from the transaction.
Leave it to the professionals
At Motorwise, we offer a straightforward and simple solution for scrapping your car while ensuring you get paid properly. Contact us today for your free quote.