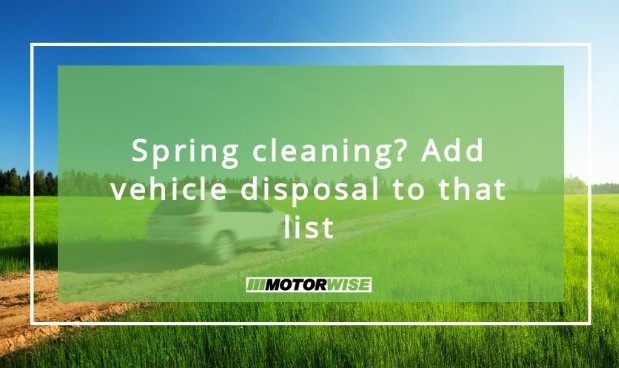 Spring cleaning? Add vehicle disposal to that list
There's nothing like a good spring clean to leave your house feeling nice and new. But more households than you might think are carrying unattractive baggage outside of their home. Do you have a non-functional car, a car that didn't pass its MOT, or a vehicle that's just past its prime taking up drive space? Then adding it to your spring-cleaning list is the best thing you could do.
The best way to get rid of unwanted vehicles
If you're thinking of giving it a go on eBay or trying to sell your vehicle locally, then you might be missing out – because scrapping a car has plenty of benefits. Choosing a service that offers vehicle recycling can ensure your car has more use beyond its current form, for a start. It can also ensure your vehicle is disposed of in a safe and controlled way. The problem with selling a scrap-worthy car is you don't know where it'll end up. Sold vehicles that don't have a purpose can easily end up fly-tipped or improperly disposed of. If that car's still in your name, you might have a big problem on your hands.
Similarly, selling your car off bit-by-bit might seem cost-effective. But in reality, it can be a long-winded process. If you don't want to be left with half a car outside your house, then opting for a full vehicle salvage service solves the problem quickly and easily. No waiting around for buyers, no mess, and far fewer problems. Furthermore, if you remove and sell parts, thinking a car scrapyard will then come and buy the remains, you will probably be very disappointed. Many car scrapyards will not agree to collect and buy incomplete cars as there will not be sufficient value left in the shell to cover their costs of collection and processing. If you're looking for the perfect opportunity to get rid, then a scrap car collector should be at the top of your list.
Remove messy motors the right way
Perhaps you're not aware of the legal requirements for disposing of vehicles. Or maybe you're hoping to get some cash for your car, and you've always heard that scrapping isn't worth it. If you're sick of that old banger adding to the mess on your drive or outside your home, a car scrap service that removes the whole vehicle is your best bet. Taking apart a car yourself may seem a good idea at the time. But if done incorrectly, it can lead to more mess and even potential damage to your drive or parking space.

By turning to the professionals, you can tick removing that car off your spring-cleaning list with no need ever to leave your home. Scrap professionals will come and pick the car up or tow it away, leaving you with a clean space and no additional cleaning needed. If you're considering adding getting rid of a vehicle to your spring-cleaning list, then Motorwise is the specialist you need. Get in touch with us today to find out more about our car disposal services.