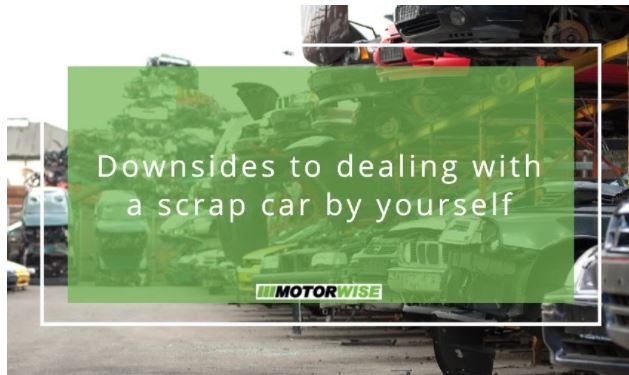 Downsides to dealing with a scrap car by yourself
When your vehicle stops passing MOTs and is costing you an arm and a leg in repairs, you may be pondering whether it is time to sell it or send it for scrapping. For the majority of motorists, this is a rare event and one they've not come across before. While you might decide to research how to get rid of your unwanted vehicle, an easier approach can be to get help from the experts.
Read on to discover why managing your unwanted vehicle can be tricky, and how professionals in scrap and salvage can assist.
A slow process
Selling a car that isn't fit for the road isn't easy. Most buyers are after a vehicle they can drive not one in need of repairs. If you opt to sell the working parts of your car piece by piece, it will take time and you'll still be left with the car's shell to dispose of. Scrap yards won't collect incomplete cars, so you'll need to have it towed to a recycling plant at personal cost.
With a professional scrap car service, you can complete the transaction quickly receiving a quote in seconds. Your old car will then be collected free of charge and taken to an Authorised Treatment Facility (ATF).
Struggling to get a fair price
Attempting to sell your unwanted car will involve haggling with customers. However, when you use a specialist service, you'll receive a fair price for your scrap vehicle. If your car is 12 years old or younger, parts of it may still be of value. This means that it could be classed as a salvage vehicle, and you'll receive even more money from the transaction.
With expert advice, you can ensure you'll be getting the best price for the original investment you made. This allows you to recoup funds that can be used on your next vehicle purchase.
Unwanted worries
Selling and scrapping a car can both be stressful processes. The UK government has rigid rules regarding how cars must be disposed of to make certain it happens safely. By selecting to utilise a scrap car collection service you'll never need to worry if you have broken a law. This is because professional services only work with registered ATFs that are approved by the Environment Agency and ensure all legislation is strictly adhered to.
If you're ready to scrap your car, get a quick quote now from our team at Motorwise and we will take care of the rest.