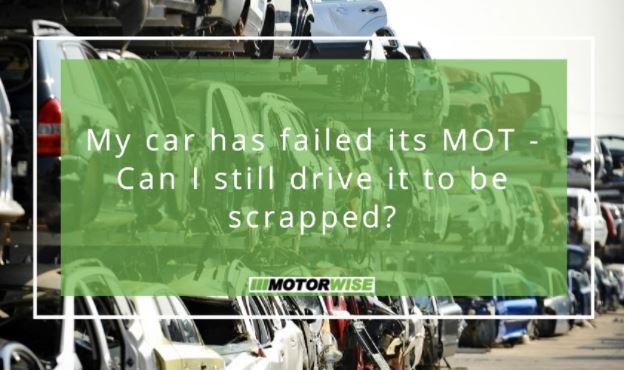 My car has failed its MOT - Can I still drive it to be scrapped?
You don't need us to tell you that it's illegal to drive a car that's failed its MOT, as this failure means it's too dangerous to be on the road. So, if you wish to scrap your car, you may now be stuck wondering whether or not you can drive it straight to the scrapyard. This is a common predicament, so carry on reading to find out more.
Can I drive my car to the scrapyard if it fails its MOT?
Put simply, no. A car that has failed its MOT is too dangerous to drive anywhere, including to the scrapyard. Although there are two exceptions to this rule, unfortunately, scrapping a car isn't one of them.
The first exception is that you can drive your car after it has failed its MOT if you're taking it in for another test. The second exception is that you're driving your car to the garage for repair work.
It's important to note that there are strict rules in place, however. For example, you should only drive the car in question if you're taking it to a scheduled appointment. If you're pulled over during the drive, you may be asked to prove where you're heading to.
How can I scrap my car?
If your sights are still firmly set on scrapping your car, you may be wondering how this is possible seeing as your vehicle has failed its MOT and you can't drive it. However, we can arrange for one of our mechanics to pick the car up straight from your house or garage. We'll winch your car onto one of our vehicle transporters to recover it to our yard, which means that the roads are kept safe and you don't get behind the wheel of a potentially dangerous car!
When you contact us, our Motorwise mechanics might ask a few questions about why your car has failed its MOT. But rest assured, this is nothing to worry about. We do this because we often remove parts from the car that we can recondition for resale. For example, if your car failed its MOT due to issues with the brakes, suspension and steering, we can still take the battery.
For more information about scrapping a vehicle that has failed its MOT, contact our team at Motorwise today.