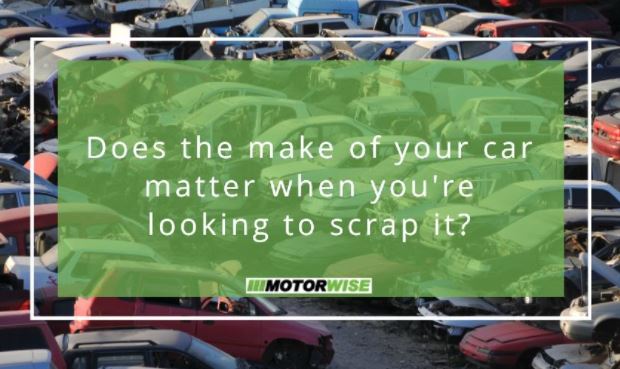 Does the make of your car matter when you're looking to scrap it?
Owners will do all they can to get the best price for a car, even when it's going to the scrapyard. We see it every day. From Fords to Fiats to BMWs, drivers are constantly on the lookout for things that they can do to increase the sale value of their vehicles. That's why our team at Motorwise are going to answer some common questions about car makes and whether scrapping a 'high-end' car correlates to a bigger cash payout.
Does the make of your car make a difference?
Put simply, sometimes. It usually depends on the spare parts you have. If your car is more expensive, then chances are its parts are rarer and more high quality, which means that they're deserving of a higher price tag – whether it's you who is selling them or the scrapyard. However, if some parts of the car need work doing to them before they can be sold on, you may receive a lower payout.
For example, if you have a Mercedes engine that's repairable but has still been through the works, you're likely to be offered a lower price compared to a Kia engine that's in perfect condition. However, there are some other considerations to take into account, so never assume you'll get more for an Audi A4 than a Ford Kuga simply because of the make.
What other considerations affect the value of your car?
Weight
At a scrapyard, the heavier the car is, the more valuable it is, hence our reference to the Ford Kuga and the Audi A4 above. A Ford Kuga weighs 1,564 to 1,844 kg, whereas an Audi A4 weighs around 1,415 to 1,825 kg. This means that to a scrapyard, the Ford Kuga is more valuable because there's more metal to salvage and sell on.
Age
The age of your car also has a direct effect on the amount of cash you'll receive for it. At any scrapyard, a 2004 Mercedes will be less valuable than a 2019 Mercedes. This is because the parts are older and they're likely to be in a poorer condition compared to the 2019 model.
For more information on whether or not a more expensive car make will lead to a better payout, feel free to contact a member of our team at Motorwise today.