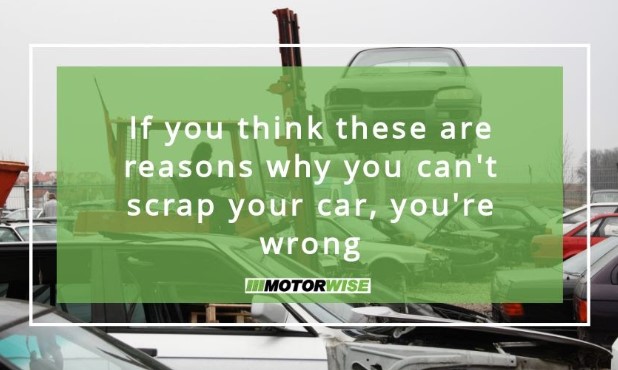 If you think these are reasons why you can't scrap your car, you're wrong
If you own an old vehicle that is no longer in a fit state to use, or you simply choose to never use it, the thought of sending the vehicle to a scrap yard will most likely have crossed your mind. There may be, however, some factors which are preventing you from committing to scrapping your old car. We explore some of these factors below.
1. You believe it will be more expensive to travel to the scrap yard than the car is worth
If you are in possession of an old car that is unable to run, you may think it will be more expensive to transport the vehicle to a scrapyard than the vehicle is actually worth. Motorwise is a car recycling service that will pick up your old vehicle for you, eliminating the cost of transporting your vehicle.
2. You may think scrapping a car is not environmentally-friendly
Many scrap yards do not have the knowledge or specialist equipment to scrap a car in the most environmentally friendly and efficient way. Thankfully, there is an alternative. Recycling your car with a reputable vehicle recycling company will ensure your car is scrapped in the most efficient way, with minimal waste.
3. You might believe your car isn't worth enough to scrap
If your car is unable to run, rusty or severely damaged, you may think a car recycling service will not be interested in your vehicle, or it won't be financially beneficial for you. To determine the value of your vehicle, a recycling service will weigh your vehicle, so even if the car is damaged it will still be of value.
4. You have a sentimental attachment to the car
You may be resisting taking your vehicle to a scrapyard because you have a sentimental attachment to the vehicle. For example, you may have inherited the car or it may be the first vehicle you have ever driven. No matter what attachment you have to a vehicle, disposing of it the right way, through a recycling service, will give you the peace of mind you need to finally part with the car.
If any of the above factors have been holding you back from scrapping your car and you now feel ready to enlist the help of an expert car recycling service, contact Motorwise today. At Motorwise, we ensure scrapping your car is as easy, financially beneficial and environmentally-friendly as possible!