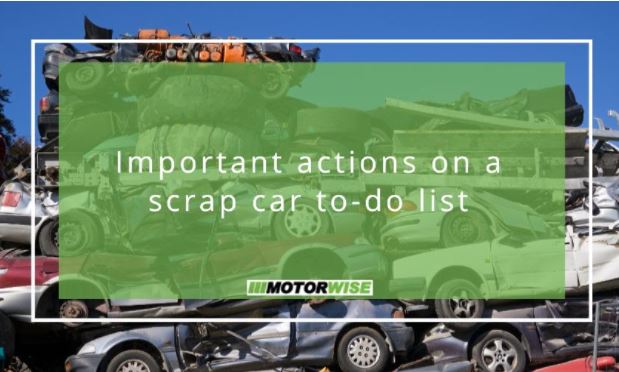 Important actions on a scrap car to-do list
Arranging to get an end-of-life vehicle collected and scrapped doesn't have to be difficult, but car owners will find there are tasks to perform prior to collection. In the following sections, we'll outline some key considerations you may not have considered yet.
Find out your scrap car's value
Before scrapping a car, it is always worth finding out its worth. Along with avoiding disappointment, you'll also know exactly how much you'll have to put towards your next set of wheels. Fortunately, online calculators designed for scrap car assessments can give you an instant quote for free. Simply add the registration of your scrap vehicle and your postcode into the form's fields to find its value.
Arrange to retain your vehicle registration number
You might have purchased a personalised plate that features your initials or date of birth or just feel sentimental towards your first car's reg. If you'd like to keep the number on your scrap vehicle, you can.
However, applying to retain a plate number must happen before your vehicle is scrapped. The Driver and Vehicle Licensing Agency (DVLA) makes this task simple via its retention services online, but you'll need the logbook of your vehicle for information and a credit card. You can then submit an online application and pay the £80 fee to keep hold of your registration. Once completed, the DVLA will instantly inform you that you have successfully held onto your number and will send you a V77 certificate in the post within two weeks.
Remove your personal belongings
In use and over time, our cars can become storehouses for our possessions, from CDs and magazines to books and blankets. Give your scrap car a comprehensive clear out and check every nook and cranny, including underneath floor mats and beneath seats where items sometimes roll while vehicles are in motion.
Park your scrap car ready for collection
To make sure the scrap car collection driver can pick up your vehicle, you must park it on a flat road surface that can take the weight of their vehicle. Ensure they can access your scrap car and that it is in driveable or winchable condition.
Scrap my car now
If your vehicle's constant repairs are too costly and it's time to scrap it, you can count on Motorwise for assistance. Collect your free quote and then get your car ready for collection. If you have any questions about the process contact our team today for advice and assistance.