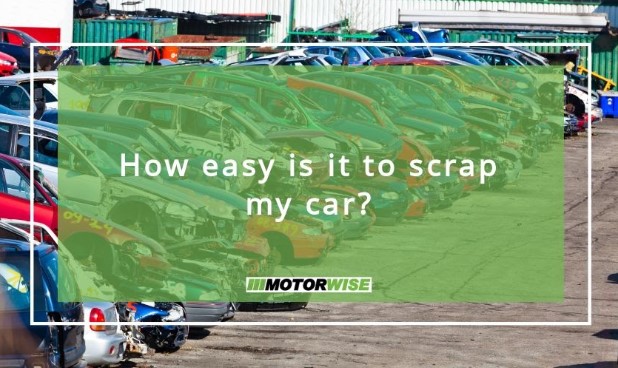 How easy is it to scrap my car?
It's easy to be daunted by the idea of getting rid of a car that's just no use any more, and end up with an old vehicle taking up space. Not only does it look untidy, but it's a waste - that scrap car could be money in your pocket!
Scrapping a car can be simpler than you think. By choosing a licensed and professional vehicle recycler through Motorwise, you can quickly and easily deal with disposing of your car.
Fuss-free removal
There's no need to worry about your car's condition, whether or not it drives or how to get it to us. As long as it's complete and is in a space that is accessible to our recovery vehicle, you can take advantage of our free nationwide collection service. Simply use our website to get an instant quote for your vehicle by entering your registration and postcode. This quote will tell you how much your car is worth, and includes free collection. Our quotations have no obligations, so there's no need to make a decision until you know how much we'll offer. If you're happy, go ahead and accept the quote, and our specialists will contact you within 4 business hours to arrange collection.
The rules and paperwork involved
Once your vehicle salvage has been arranged, there are a couple of things you'll need so that everything goes smoothly. The first is a valid form of photo I.D. - the best option is a driving license photo card, but other forms of I.D. can be taken. If you do choose to provide I.D. that isn't a driving license photo card, you'll also need to show a supporting document from the last 3 months that confirms your name and address.
If you have the vehicle's registration document (V5C), that is preferred by our recycling centres. However, if you don't, we can still dispose of your car. Just speak to the recycler when they call to discuss your quote. The same goes for the car keys. Once the car is gone, you'll need to notify the DVLA that you are no longer the keeper of the vehicle. For cars that will be recovered, there's no need to have a valid MOT or insurance.
Finally, it's your legal responsibility to ensure your car goes to an Authorised Treatment Facility (ATF) to be scrapped. We only work with ATFs to dispose of cars, giving you peace of mind without the hassle.