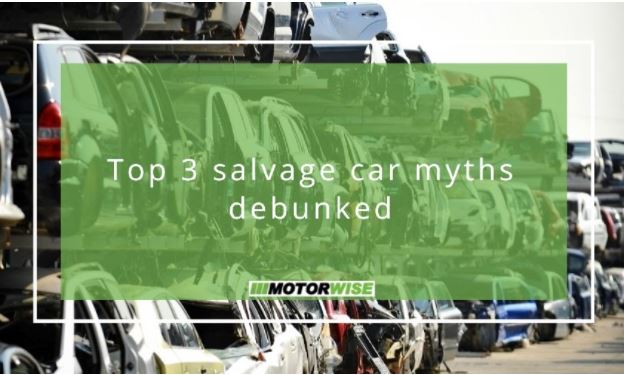 Top 3 salvage car myths debunked
There are a number of misconceptions about salvaged cars that cast them in a poor light. Such misconceptions sometimes deter consumers from taking advantage of the significant income opportunities offered by salvaged autos. We've refuted 3 of the most frequent myths regarding salvage cars to help clear the air.
Myth 1: Salvage vehicles cannot be repaired
One common misunderstanding is that salvage cars are destined only for the scrap yard. However, that isn't entirely correct. The state of a salvaged vehicle is determined by the extent of its damage. Although cars that have been damaged by fire or water, for instance, may require a significant amount of additional labour and expense to make them roadworthy, it's possible to restore them. If the car is able to be repaired, once the work is done, its salvage record will be changed to a restored title.
Myth 2: Salvage vehicles are expensive to fix
People are frequently discouraged from acquiring a salvage title car due to concerns about the vehicle's high repair expenses. However, not all salvage cars have been severely damaged. In some circumstances, basic, low-cost repairs are all that is needed to get the car back on the road. Furthermore, if you know where to search for replacement vehicle parts, they may be quite inexpensive. As a result, fixing a salvaged car is often quite cost-effective.
Myth 3: It's difficult to insure a salvaged vehicle
While insurance for a damaged vehicle may be harder to come by than insurance for a new one, it isn't impossible to have a salvage title vehicle covered. On salvage cars that pass the requisite registration checks, several insurance firms will issue liability insurance.
Contact Motorwise today
We provide very appealing rates for these types of vehicles at Motorise because we can re-market them to professional repairers who can service them for a far lower cost than the car owner. Not only do replacement components account for a large portion of the customer's repair expenditures, but so do garage labour charges, which may easily exceed £100 per hour. So, don't hesitate to get in touch with our expert and friendly team at Motorwise today by giving us a call or sending us an email for all your salvaged car needs.