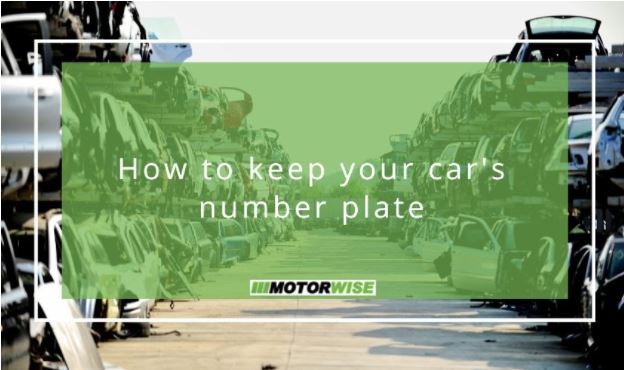 How to keep your car's number plate
One of the most common questions that we receive at Motorwise is whether or not a car's registration can be kept after it's been scrapped. Some of us become rather attached to our number plates, as they might have a loved one's initials on them, or spell out a lucky date, for example. Luckily, there are two ways you can save your car's registration.
Online
The quickest and easiest way to save your car's number plate is to visit the DVLA's registration retention service. You will be directed to a window that consists of four steps, allowing you to remove the registration from the car you want to scrap. Keep your V5C document and your debit card on hand as you complete the process as you will need the 11-digit reference code attached to this document. Note that it costs £80 to file the application.
During the process, the DVLA will ask you for a 'grantee' or a 'nominee' – this is the person that you want to issue legal ownership of the registration to. This means that you will need to have their details on hand if this is for someone other than yourself.
Around two weeks after completing this process online, you'll receive the V778 retention certificate through the post, confirming that it has been sorted. However, you should receive confirmation of this immediately after finishing the four steps online.
Via post
It's possible to complete the process via post too, you'll just need to print off the DVLA's V317 form. If you don't have access to a printer, you can use the DVLA's ordering form service.
You need to complete the grey side of this document, providing details such as your car's VIN, chassis, make, model and registration number. If you're not sure where to find all of this information, don't worry – it's all in the V5C book!
You will also need to assign the registration a 'grantee' or 'nominee'. If you leave this section blank, ownership will be assigned to the car's current owner. Once completed, send a cheque or a postal order for the £80 to:
DVLA Personalised Registrations
Swansea
SA99 1DS
For more information about keeping your car's registration number before scrapping it, contact our team at Motorwise.