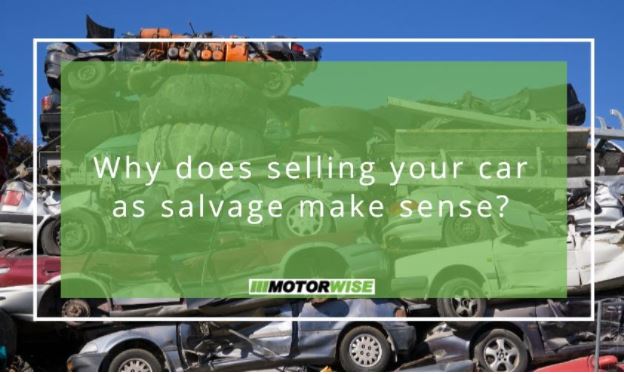 Why does selling your car as salvage make sense?
Modern vehicles have an expected service life of at least 150,000 miles if they are kept well maintained. However, it's understood that not all parts of a car or van will last for the same duration. As a result, when your vehicle is no longer fit to drive on UK roads, many of its components may still be of use. If this is the case, you might be able to sell your car as salvage rather than scrap. Read on to discover the key benefits of making this selection.
How can you tell if your vehicle is salvageable?
Providing your car is not yet 14 years of age, there's a good chance it might be classified as salvage. When a vital part of your vehicle fails, like an engine or gearbox, the cost of repairs can be too expensive for owners. However, selling the car as salvage can help them recoup some of their investment.
Green reasons for vehicle salvage
When your car is sold as salvage, it has the potential to be repaired rather than scrapped. Qualified trade repairers can replace failed working parts or repaid bodywork, to enable the car to once again become roadworthy. If they deem the car is beyond economic repaid, they can extract working parts from your vehicle and make them available to install into other cars, making them fit for purpose again. This salvage process is even more eco-friendly and will ensure cars can enjoy increased active service life.
A better price for your unwanted vehicle
Scrap and salvage collection services can offer more attractive price tags for vehicles classed as salvage as they are able to remarket them and sell them to trade repairers. If your car has a mechanical fault that will cost thousands of pounds, you don't have to repair it, as the handsome prices offered for salvage can be an ideal solution.
Payments for scrap and salvage cars are never made in cash, in accordance with UK law. Conveniently, payments are made directly into car owners' bank accounts to ensure they are fully traceable.
Scrap my car
Selling a car as salvage or for scrap doesn't have to be difficult. At Motorwise, we've streamlined the process to ensure unwanted vehicles are dealt with efficiently while offering car owners peace of mind, a free collection, and a fair price. Get your quick quote now to get started and find out how much your car is worth.