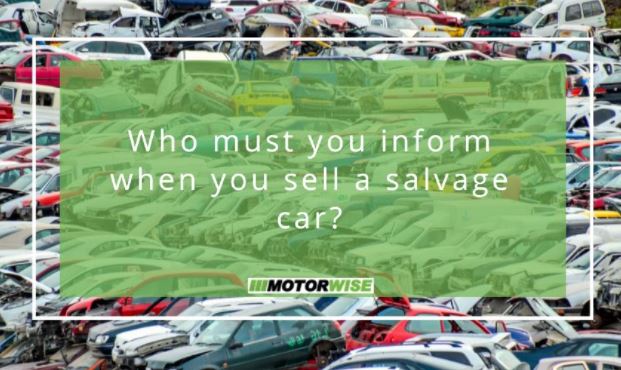 Who must you inform when you sell a salvage car?
If your vehicle is less than 12 years of age but experiences a mechanical fault that is too expensive for you to repair, you can sell it to a salvage car collection service. While such experts can ensure the process is painless and runs smoothly, you'll still have to inform certain parties of your decision to part with your car, namely your insurer and the Driver and Vehicle Licensing Agency (DVLA). In the following sections, we'll explore why these notifications are important when you must act and the consequences if you fail to fulfil these obligations.
When must you inform your insurance provider?
Your car might not be fit for the road due to a non-functional gearbox, but unless it has a Statutory Off Road Notice (SORN) you'll need a car insurance policy. When you sell your vehicle as salvage, you should tell your provider to cancel your insurance, or you'll end up paying cover for a car you no longer own. However, always wait until the vehicle has been collected in case it is stolen or damaged before your pick up date. This way, if the worst comes to pass, you'll still be entitled to claim.
Why notify the DVLA?
As the registered keeper of the salvage vehicle, you have a responsibility to inform the DVLA of your decision to sell. When ownership of a vehicle is transferred to another person, UK law states that the DVLA must be notified, however, it is also in your own best interests. Failure to do so can result in you being responsible for any driving offence committed by the new owner and any penalties incurred.
How to inform the DVLA you've sold your car as salvage
When transferring ownership of your car, the driver collecting your vehicle will complete their details in the car's logbook and you can add your own. As the car's owner before the sale, you must send off this section from VC5 to the DVLA, giving them notice.
This task can also be completed electronically at www.gov.uk. After filling in the form, you'll receive a confirmation email accepting you're not the car's owner. Any road tax due for refund will then be issued to you.
Specialist in vehicle salvage
From a calculated quote and convenient collection to being paid fairly directly into your bank account, you can rely on Motorwise for a hassle-free service. Contact us now to get started.