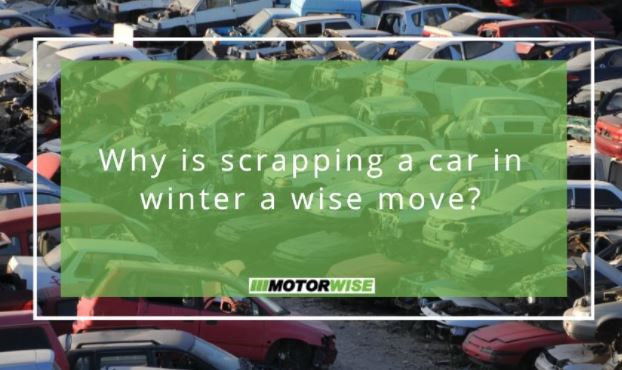 Why is scrapping a car in winter a wise move?
With winter well underway, the last thing on your mind is probably dealing with your unreliable car. If it has a fault that keeps occurring, is constantly failing its MOT, or keeps letting you down and costing you money, it may be time to sell it for scrap or salvage. You might be unaware but performing this process can be painless and winter is the perfect time to make this move. Read on to find out why.
You require a safe and reliable car
Winter driving can be difficult at best, but in an unreliable car, it can be a frustrating season. From struggling to get your engine started to breakdowns on cold roads, an undependable vehicle in winter can be a real headache.
As a season, winter is notorious for weather that creates treacherous driving conditions. Low visibility, hard frosts and black ice are just some of the potential hazards UK drivers must deal with when the temperatures drop. If your car is experiencing issues that never seem to get resolved, scrapping it can be a safer option.
More affordable options
As a rule, buying a new car in wintertime can be a less expensive prospect. Compared to spring when car prices tend to skyrocket, in the chillier months of the year, cars are commonly much cheaper to purchase. If your old make and model has reached the end of its usefulness you won't want to be without a vehicle, but by dealing with it in winter you can pick up a new ride with a lower price tag.
Fortunately, the prices paid for scrap and salvage cars don't fluctuate depending on what time of year it is. Selling a car that you no longer trust to a scrap or salvage expert can make it easier for you to move on to your next vehicle, with convenient collections and quick payments.
Scrap your car this winter
At Motorwise, we offer a simple and straightforward way for drivers to deal with a scrap or salvage car. You can stay inside where it's warm and we'll come and collect your unwanted vehicle at a time and place that suits you best and ensure it's recycled safely. As soon as it's been scrapped, we'll pay you an agreed amount, so you can put it towards a more reliable set of wheels. Get your free quote now.