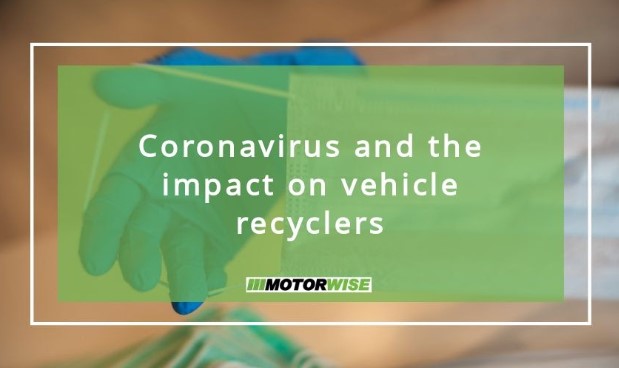 Coronavirus and the impact on vehicle recyclers
Each and every one of us is currently having to adapt to a completely new way of living. The vast majority of individuals have been confined to their homes, millions have been asked to set up offices in their living rooms or kitchens, while many others have been furloughed, and are simply trying to keep themselves occupied during this extended period of downtime.
The impacts of coronavirus will, eventually, extend far beyond the virus itself. The shutting down of the economy will result in jobs being lost, in products not being made, in material prices fluctuating, and in altered consumer behaviour when it comes to purchasing all manner of items. Regardless of when the current period of lockdown ends, it is undeniably the case that life will not return to 'normal' for many months, perhaps even years.
Manufacturing and the motor industry
All industries will be affected, both in the short- and long-term, and the companies throughout the motor sector are by no means immune. Manufacturing has stalled around the world, and therefore there is very little demand in all manner of products, services, solutions and materials.
And, while some of the companies to be affected are relatively obvious – car manufacturers, for example – it is also worth highlighting that any number of other businesses – for example, vehicle recyclers – are also feeling the pinch.
Reduced demand for car parts and materials
Organisations that have to build a business on providing a car scrap service tend to dismantle cars so as to utilise the various materials – steel, aluminium, copper, and various other precious metals – in other processes. These contents are subsequently sold for use in an array of other sectors and for a variety of purposes, but given the fact that many organisations have stopped operating altogether, while others are working at very much reduced capacity, there is a much-reduced demand for such materials.
The same operational costs for recycling centres
However, with regard to this specific example, the same operational costs exist – paying staff, premises overheads, electrical usage – but the end product no longer accrues the same financial gain. Recycling a car, therefore, has never been less financially viable. As a result, the amount that can be offered for scrap cars is currently lower than it has been in recent times; the associated commodities cannot be sold on, and so there is very little to be gained from recycling a vehicle during this period.
When manufacturing starts to pick up again then normal service will, inevitably, be resumed, but during this current time, vehicle recyclers – along with nearly every other business – are having to adapt so as to ensure they will survive.