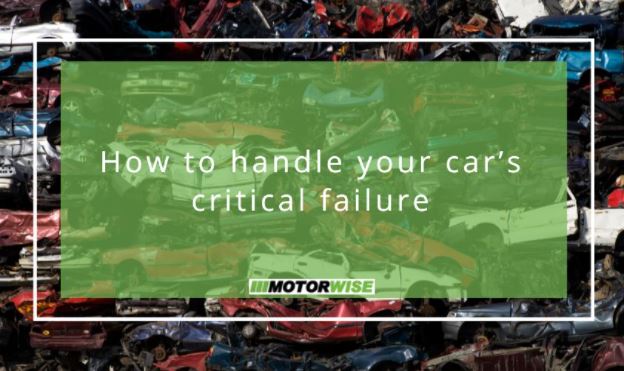 How to handle your car's critical failure
Modern manufacturing standards are designed to produce cars you can count on, but with millions of vehicles being mass-produced each year, faulty parts are still a possibility. While a defective windscreen wiper or door lock won't cost the earth to fix, major mechanical failures are another matter altogether.
Work and replacement parts necessary to resolve the total failure of a gearbox, electronic control unit (ECU) or engine can run into thousands of pounds. When this situation arises, car owners can try and raise the capital required to fix the problem, or try and sell the unroadworthy vehicle themselves. Unfortunately, most people in the market for a car are looking for one that is ready to use, not a vehicle they'll need to repair.
Luckily, another option exists, that is both easier than managing a sale and more equitable than paying for repairs. Read on to find out more.
Sell your vehicle as a salvage car
If the car you drive has a critical failure not yet 14 years old, there's a good chance you can sell it as salvage. The same companies that collect cars for scrap offer a similar service for salvage vehicles. While your car may be unable to run because of its mechanical issue, due to its age many of its components will still have an active service life. As a result, the collection service will pay more for your vehicle than they would for a scrap car.
How complicated is selling a salvage vehicle?
There are professional services available today designed to make selling a car as salvage as pain-free as possible. Quotes for cars can be obtained online in seconds, and collections booked just as easily. You'll be able to select a time and date for pick up and even decide whether you would like your car collected from your home address or from where you work. You'll be paid well for your salvage car and can use the money you receive to help pay for a new vehicle in perfect working order.
Experts in salvage and scrap cars
At Motorwise we offer the easiest salvage car experience to the customers we serve. We'll ensure that you receive the correct value for your vehicle and ensure it is collected and dealt with according to UK legislation. All you'll need to do is inform the DVLA and your insurer of the transaction, so contact us today to find out if your vehicle is classed as salvage.