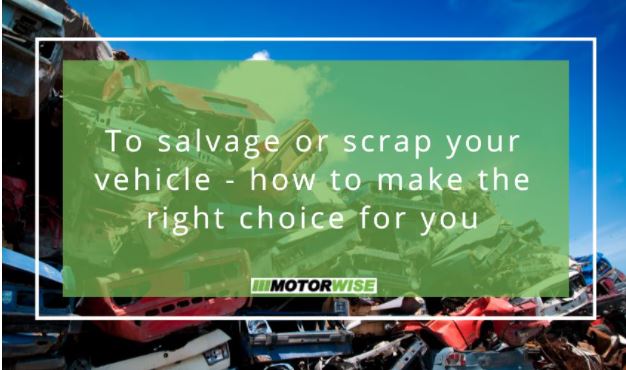 To salvage or scrap your vehicle - how to make the right choice for you
When it comes time to part with a vehicle due to a fault that renders it no longer roadworthy, you may consider scrapping your car. However, one service which is often overlooked, and which can offer many benefits over scrapping, is instead selling to a company that offers a vehicle salvage service like Motorwise.
Scrapping vs. Salvage
Simply put, a salvage vehicle is unusable to you in its current condition but still contains many functional parts, which you sell as a whole and then any useable parts are recovered for reuse. So for example if your vehicle was made within the last decade or so, is in too good a condition to be considered scrap, but has developed a major mechanical fault that stops the vehicle from being driven, salvage may be the best choice for you.
You may have already looked into repair and found that adding the cost of new parts to the cost of labour to fit them makes replacing your car the smartest choice for your finances, and salvaging can be an environmentally-friendly way to recoup some of the costs that could help to cover your new vehicle.
If, however, your vehicle is older, usually around 15 years and up, or otherwise not in a suitable condition to salvage or repair, you can still earn money from scrapping your car. Motorwise's speedy national car collection service can remove the hassle of trying to sell a vehicle that can no longer be driven.
If you are still struggling to decide which option meets your needs better, please contact us at https://www.motorwise.com/index.cfm/about/contact or use our live chat function, and one of our staff will help you with making the best choice for you.
The Risks of Selling for Parts
Selling parts is another option that some motorists go for rather than scrapping or salvaging, however, it does come with its risks. Finding buyers for individual parts, shipping, and relying on demand for older parts may end up losing you money in the long run. Those with the know-how might be able to squeeze out the best deals with hours of work, but for most people, the advantage of selling the car as a single unit is much less hassle and you can still end up walking away with more money.
Another risk of selling parts individually is once you have sold parts of a car, it is possible that scrap and car disposal services may not take what is left, and you may find that getting rid of the remains becomes more costly and difficult. Because scrap cars are sold by weight rather than a condition, removing parts will reduce any money you receive from a vehicle scrapping service, and once too much has been removed, car recycling centres may refuse to purchase the vehicle at all if they feel they will not cover the cost of collection and processing.
Why Salvage with Motorwise?
Many people nowadays are also becoming aware of the environmental effects of buying and selling new cars, and vehicle salvage is by far the most environmentally friendly route when it comes to removing an unusable car from the road. This is because many of the parts are re-used, meaning that fewer new parts need to be manufactured. Using vehicle salvaging services like that offered by Motorwise increases the number of 'green' parts available for mechanics to use when repairing other vehicles.
Motorwise offers a speedy national salvage and scraps car collection service which removes the hassle of trying to sell a vehicle that is no longer roadworthy. We offer free, no-obligation quotes with just one click on our website.