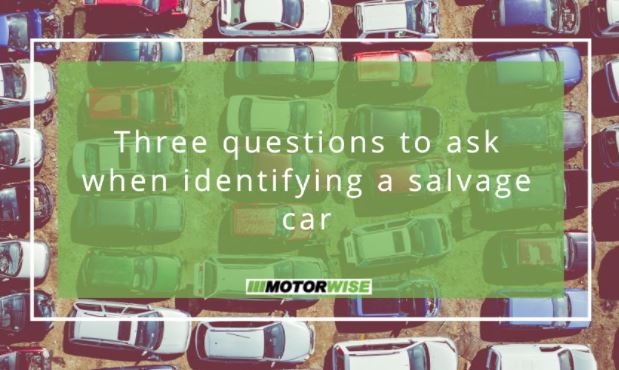 Three questions to ask when identifying a salvage car
There are many reasons why a car is no longer able to drive on UK roads. Significant flaws in key components and mechanical failures can make cars entirely inoperable, while accidents and age can make them unsafe to drive and harmful to other road users. When car owners discover that they can't afford to pay a professional to repair and make their vehicle roadworthy, they often consider scrapping instead. However, another option exists called salvage, and it may be more valuable. Read on for some key questions to ask which can help you assess if your vehicle is salvageable.
Is your vehicle 14 years of age, or less?
Cars that are only fit for scrap are typically fifteen years of age or even older. Salvage cars, on the other hand, fall into the 14-years-and-below bracket. As a result, asking how old your vehicle is, makes a perfect starting point to find out what category it falls into. Car parts age over time, so it stands to reason that the younger the vehicle is, the more useful its components will be.
Does your vehicle have a major mechanical issue?
Cars classed as salvage have typically developed a major mechanical fault like a gearbox or engine failure. The price of repairing vehicles and remedying such problems can amount to bills that car owners can't afford. Cars with a major fault are also notoriously tricky to sell or part exchange. Fortunately, professional salvage services are willing to buy these vehicles for handsome prices.
Other than this fault, is your vehicle in good condition?
If your car's bodywork is in relatively good shape and its parts are still functioning well with plenty of active service life in them, your car may well be considered salvageable. The parts of your vehicle that still work can be repurposed in another car, extending its life and getting it back on the road. As a result, salvaging cars is among the greenest methods available for dealing with damaged or faulty vehicles.
Professional car salvage services
At Motorwise, we provide a stress-free salvage car experience for our customers. We'll make sure that you receive the right value for your inoperable vehicle and ensure it is collected quickly, at a time and place that suits you. If you have any doubts about whether your vehicle will be classed as salvage, get in touch with our team today for guidance.