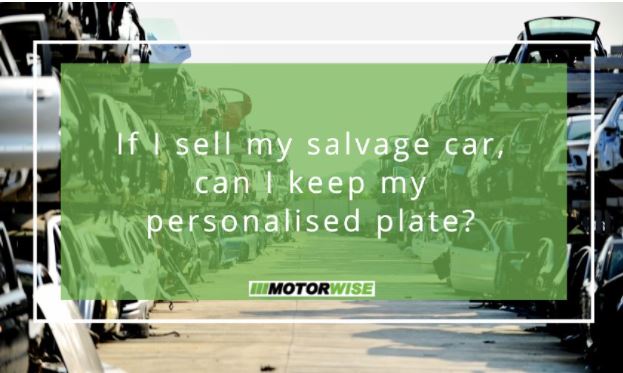 If I sell my salvage car, can I keep my personalised plate?
Your vehicle might not even be 12 years old yet, but if a core system it needs to operate is faulty the repair costs involved can be thousands of pounds. Total engine failures and faulty gearboxes can make vehicles difficult to sell to standard car buyers, but professional salvage services will pay far more for them than scrap.
If you have invested in a personalised plate for your salvage car either from an online specialist or at one of the Driver and Vehicle Licensing Agency (DVLA) auctions, you might not want to part with it. The good news is that just because your car is no longer roadworthy, it doesn't mean you have to lose your registration. Read on for some important tips to keep your plate number.
Get online to retain your reg
If you are looking for a quick and easy way to hang on to your number plate, you will find that the dedicated online retention service supplied by the DVLA is by far the best option. To complete this simple process, you'll need to locate the 11-character reference from your salvage vehicle's V5C logbook and a valid credit or debit card to make the payment of £80 that is required to retain your registration.
Next, fill in the online form providing any information it asks for and pay the fee. After you have completed your online application, you'll get a confirmation from the DVLA immediately, stating that you've successfully kept your plate number. The notification will also advise you that a retention certificate or V77, for short, is now in the post and will arrive at your address within two weeks.
After this task is complete, the salvage car you wish to sell is provided with a brand-new registration, while its original reg is transferred over to the retention certificate for your use when you have a new vehicle you wish to assign it to. At this point, you can safely sell your salvage car at no risk of losing your personalised number plate.
Saving your personalised registration by post
A second option for those without internet access is to carry out the same process via post. Instead of an online form, fill in a V317 form and post it to the DVLA in Swansea with an £80 cheque and your VC5 logbook.
Once you've preserved your plate, get in touch with Motorwise and we can arrange to collect your car.