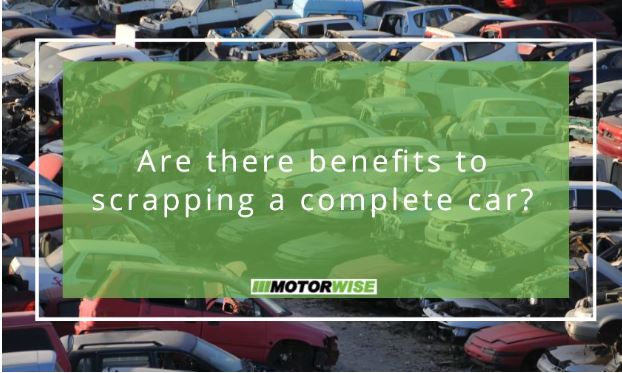 Are there benefits to scrapping a complete car?
When a car is 15 years or more it can start to show more than just signs of wear and tear. Failed MOTs, breakdowns by the side of the road and expensive repairs that never end can lead car owners to scrap their cars. Regardless of how many years a person has enjoyed active service life from a vehicle, it's understandable that when they must part with their car most owners are looking to benefit financially.
While a car might not be fit for the road, if you've replaced components more recently you might be tempted to try and sell them separately before you get it scrapped. A smarter and more equitable solution, however, can be to scrap your whole car. Read on to find out why...
Time is money
Selling individual car parts can be a time-consuming process. Instead of a single sale where your entire vehicle is bought in seconds, a piece-by-piece approach involves multiple transactions. Each sale typically includes taking photos for listings, setting up different advertisements or auctions, handling customer communications by answering questions or capturing additional images and even arranging viewings in person. Selling parts also involves haggling over prices and chasing down payments.
Selling your complete car to a scrap car collection service can take minutes. You can get a free quote online and your car can be collected at a time and place that suits you best. After your car has been scrapped, you'll receive a prompt payment that is conveniently made straight into your bank account.
Paid by the weight
When you sell your scrap car you are paid by its weight. For every piece you take out and try to sell, the price you'll receive for your vehicle will go down. If you take parts out after receiving a scrap quote, the collection service may even refuse to take your unwanted vehicle away as it will no longer be equitable for them to dispose of it. In worse case scenarios they could even charge you for wasting their time.
Scrapping made simple
The process of selling an end-of-life vehicle doesn't have to be tough or time-consuming.
Here at Motorwise, we offer a smooth and streamlined service that ensures your car is disposed of safely and you get paid fairly for its metal. If you're ready to scrap your unreliable or aged vehicle, get your complimentary quote today and we'll book your collection.