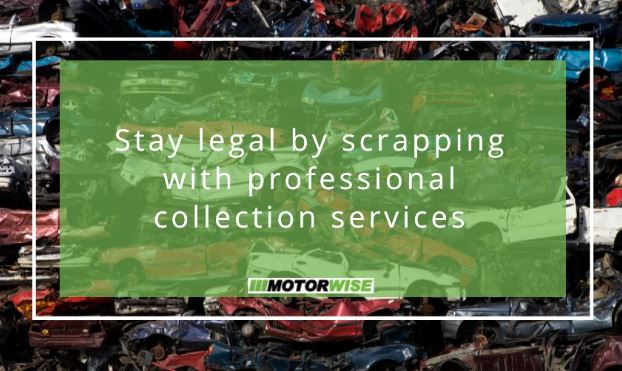 Stay legal by scrapping with professional collection services
Over time vehicles can outlive their usefulness. When cars can no longer be classed as reliable transport and constantly break down, scrapping rather than repairing is often the economical answer. While it is true that strict rules in the UK dictate how cars are destroyed, professional scrap car collection services are readily available to make disposal simple and safe. By obtaining expert help, car owners can also ensure that their unwanted vehicle is scrapped in accordance with UK laws and regulations, however, some legal responsibilities still fall to the owner of a scrap car. Read on to find out how to stay on the right side of the law when scrapping.
Environmental legislation
British laws once stated that just 85% of unwanted cars required recycling, but 2015 saw this legislation amended by the Government. The current End-of-Life Vehicle (ELV) Directive drafted by ministers insists that 95% of scrap cars are recycled or repurposed.
The law also demands that Scrap vehicles are only recycled at Authorised Treatment Facilities (ATFs). Trained operators at ATFs possess the skills and specialist equipment required to depollute cars and reclaim the metals and other materials they are made from.
Expert vehicle collection services make this task easy for car owners. Scrap vehicles are collected in a timely fashion and taken to official ATFs for crushing and recycling.
No cash payments for scrap
Accepting payment in cash for scrap is an offence in the UK. The Scrap Metal Dealers Act states that registered keepers must get paid via a transparent and fully traceable transaction. Expert scrap services will make sure payments are always above board and made directly into the car owner's account, helping them avoid breaking the law.
Avoid a £1,000 fine
A scrap service can cover most of a registered keeper's legal obligations, but the car owner must inform the Driver and Vehicle Licensing Agency (DVLA) when a vehicle is being scrapped. When you opt to scrap, you are selling your car to the ATF, so you must let the DVLA aware of the change in ownership. Failure to do results in an offence that is accompanied by a £1,000 penalty. Fortunately, this is not a tricky task, and you can alert the DVLA either online or by post.
Keep scrapping legal
If you're ready to scrap your car in line with the law, we can help. Get a free online quote today from Motorwise for premium peace of mind.