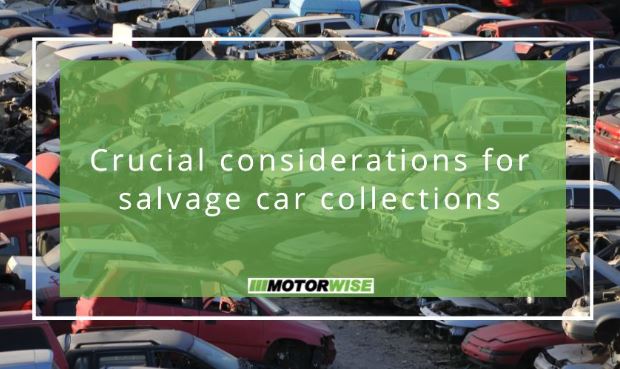 Crucial considerations for salvage car collections
Selling a vehicle for salvage instead of scrap can have economic advantages, as such a transaction will almost always pay more. Specialist services are now available that collect unwanted cars from your workplace or home to ensure the process remains quick and convenient. It is worth remembering however that it is your personal responsibility to make certain that your car is ready and in the right condition on collection day to avoid any problems.
Your vehicle's location must be accessible
To pick up your car, a scrap service will send a heavy-duty collection truck. As a result, the vehicle will need an even surface that can bear its weight. Your salvage car must be easily accessible so it can be driven or winched onboard. Parking on your property's driveway is an ideal option.
Your car must be intact
On collection day your car should be in the condition it was when you received the quote from the salvage and scrap expert. If you attempt to remove parts of it and sell them separately two situations may occur. The vehicle recycling company may refuse to pay you the full amount for your car, however, they may also refuse to pick up your vehicle and even charge you a fee for the inconvenience. Another important reason for scrap and salvage cars being intact is that it makes it far easier to get them onboard collection trucks. For instance, missing wheels can be a major problem.
You must have your identification and logbook ready
To have your car picked up you'll usually need to show your collection driver proof of your identity. A passport or driver's license is an ideal option as both will include a photograph of you. It is also useful to have your VC5 certificate (also known as a logbook) handy. When your car is collected, the driver will fill in the details of the Authorised Treatment Facility (ATF) where your car is being recycled. When you let the Driver and Vehicle Registration Agency (DVLA) know that your car has been sold as salvage, you will need this information.
Specialists in salvage and scrap vehicle collection
To obtain a free no-obligation quote for a scrap or salvage vehicle only takes a matter of seconds with Motorwise. If you're happy with the price we'll pay you in return for your car, we'll book you a prompt pick-up. If you have any questions about the process contact our team today for advice.