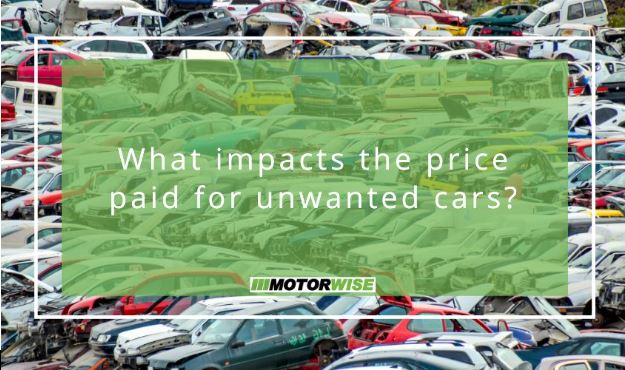 What impacts the price paid for unwanted cars?
If your vehicle is not safe or fit to drive on British roads, scrap and salvage car collection services can help you deal with them. While once the registered keeper of a car would need to pay for vehicles to be dismantled, today they receive rich rewards for recycling. In this blog, we'll look at some of the factors that affect how much owners are paid for their unwanted vehicles. Read on to find out more.
Scrap or salvage
Whether because they are damaged beyond economic repair or have just grown too old for the road, scrap services pay for unwanted cars. The price paid is not dependent on the make and model of a car, however, but its weight in metal. Once recycled and reclaimed, a car's metal is sold so it can be reused in other applications.
However, if your car is 12 years old or younger but one of its essential components fails, it could be classed as salvage. Unlike scrap cars, such vehicles can command far higher prices. While they may have a major flaw like an inoperable gearbox or total engine failure, at such a young age, many other parts enjoy perfect condition.
How the price paid for a car can plummet
As mentioned, the prices offered for a scrap car are always based on its weight. Auto scrap collection experts will calculate the payment you'll receive based on the information provided by you and will base their estimates on a complete car.
It stands to reason that if you remove substantial parts of the vehicle to sell separately, the price they will pay can decrease accordingly. It is also worth noting that if a collection driver arrives to unexpectedly find an incomplete vehicle, they may find collection inequitable and refuse to pick up your vehicle. They may even charge you a fee for the inconvenience, so always be honest when booking a collection.
How will you get paid?
Cash payments for scrap are illegal in the UK. To ensure transactions can always be traced you will usually be paid by bank transfer straight into your account.
Prompt and professional services
At Motorwise, we specialise in making scrap and salvage car collections offering peace of mind and prompt payments. As soon as your car has been dealt with, we'll make sure that you receive the money you're owed directly into your bank. Contact us for further details or obtain an online quote now to get started.