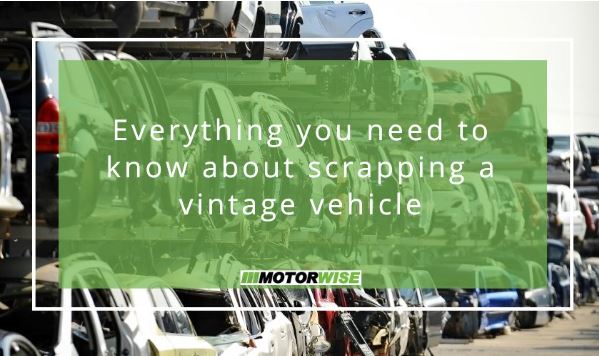 Everything you need to know about scrapping a vintage vehicle
Among the most sought-after vehicles for collectors, classic cars offer drivers a first-hand experience of decades-old automotive engineering in a car that companies no longer produce. Despite this, every year many registered keepers opt to scrap these venerable vehicles when they are no longer repairable or roadworthy. Read on to find out more.
Classic car MOT exemptions
Many car owners scrap their vehicles after a failed attempt at an MOT test. When mechanics list the work necessary to make the car able to pass, owners baulk at the costs and decide to scrap their vehicle instead.
Classic vehicles don't typically end up on the scrap heap, as cars are exempt from MOTs if they are more than 40 years of age and have not been significantly altered in 30 years. Such changes may include work on the axle, chassis and engine. Cars with more than 40 years to their credit are also exempt from Vehicle Excise Duty (VED), better known as road tax and come under the category "historic tax class".
Unfit for the road
While a classic car may be exempt from passing an MOT, it still must be maintained in a condition considered roadworthy. Paying for a specialist mechanic that understands the inner workings of a vintage vehicle can come at a substantial cost, leading many owners to select scrapping over expensive ongoing repair work.
The potential results of driving a classic car that is no longer fit for driving on UK roads can be a fine of £2,500 and three points on your driving license.
Disposing of a classic car
Scrapping a vintage car that is no longer safe to drive and with repair costs doesn't have to be a complex process. Today, professional scrap car collection services can give you an immediate quote and pick up a vehicle from your property or workplace and ensure that it is taken to an Authorised Treatment Facility (ATF). Once there, your classic car will be efficiently depolluted, crushed, and recycled and a Certificate of Destruction (COD) will be issued so that it can be removed from the DVLA's logs of active vehicles.
No one wants to see a classic vehicle scrapped unnecessarily, but if an older model has become an End-of-Life-Vehicle it may be time to unlock its value and recycle its materials to benefit the environment. Get your free quote today from Motorwise and let us handle the rest.