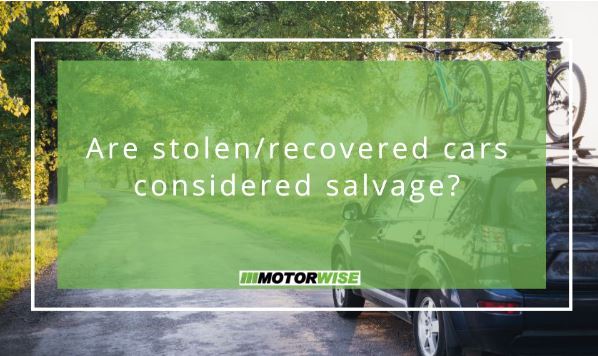 Are stolen/recovered cars considered salvage?
Any car that has been written off by insurers because it's no longer deemed roadworthy is considered a salvage car. This includes cars that have serious mechanical faults, such as total engine failure or an ECU fault.
However, stolen cars also fit into this category even if they have not been damaged in any way, provided they have been deemed a complete loss by the insurance provider. So, when is a stolen car considered salvage? Let's find out.
Theft recovery cars
A theft recovery car is a vehicle that has been stolen and written off as a complete loss before later being recovered after the insurance has been paid out. If a stolen car is recovered by its rightful owner within three weeks, it will not receive a salvage title.
If the insurer writes it off as a complete loss after three weeks, then it will be given salvage status. This will mean that the car is listed as a theft recovery car in its records from now on.
Selling a theft recovery car
Cars that have been given salvage status as a result of being stolen will have less value than a car with a clean status. This loss in value can be between 20-40% before any damage done to the car is taken into account.
Whether damaged or not, these cars can be sold to vehicle recyclers so that some of the lost value can be recouped.
Salvage services
When selling a theft recovery car to a vehicle salvage service, there are a few important factors to take into account. Make sure to choose a reliable service that offers a quick, up-front quote on the vehicle's value.
You should also check for hidden costs such as pick-up fees to make sure you're getting the best possible price. Additionally, the most reputable vehicle recyclers should operate with official ATFs and have a licence provided by the UK's Environment Agency.
For a service that meets all these conditions, choose the team at Motorwise. We offer industry expertise and advice to help you make the best possible decision for your vehicle. Get started with a free online quote and we'll make sure you get the best possible value for your salvage car with minimal stress.