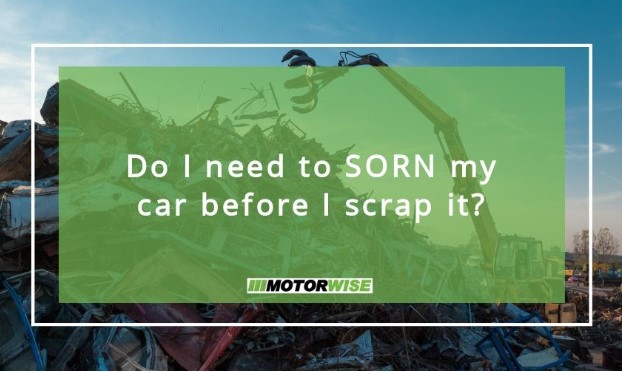 Do I need to SORN my car before I scrap it?
A car that is heading for the scrapyard is soon going to be off the road for good. So do you need to declare the vehicle as SORN before you arrange for it to be scrapped?
The Statutory Off Road Notification (SORN) is used to inform the Driver and Vehicle Licensing Agency (DVLA) that you are registering a vehicle as off the road. This means the vehicle cannot be driven on a public highway when it has been declared as SORN.
Cars that are SORN'd often end up being scrapped because vehicle disposal can be more economical than the costs of repairing the car to make it roadworthy.
With or without a SORN, you can still scrap your vehicle, but there are a few things to know first.
If your car is NOT currently SORN'd then...
You can legally scrap your car if you have not declared it as SORN. Simply follow the process of scrapping the vehicle as normal.
You can drive the car to the scrapyard or arrange for it to be collected. Just be sure that the scrapping service is being carried out at an Authorised Treatment Facility (ATF).
A Certificate of Destruction will be generated once the vehicle has been scrapped and the DVLA will be notified so that they can update their databases.
If your car IS currently SORN'd, follow this advice...
You can still scrap the car if it is SORN'd but you will not be able to drive it to an ATF.
You will need to arrange for legal transportation of the vehicle to the scrap centre. This is easy to do and Motorwise collections are free of charge.
But, if you plan to remove specific parts before scrapping the car, you will need to tell the DVLA that the car is off the road before you begin the scrapping process. You need to be aware that removing any parts will most likely reduce how much you will be paid for the scrap car. If too many parts have been removed, the Authorised Treatment Facility may no longer be able to offer a collection service or pay you for the car remains as their operating costs will be greater than any value left in the car.
People do sometimes want to take parts from the vehicle before they scrap it, particularly if they are expensive ones that have been installed.
If you do this and declare the car as SORN, you will need to arrange for legal transportation or have the vehicle collected. The process for scrapping the car is then the same as it normally would be.
To find out more about our vehicle scrap service, contact us at Motorwise today.