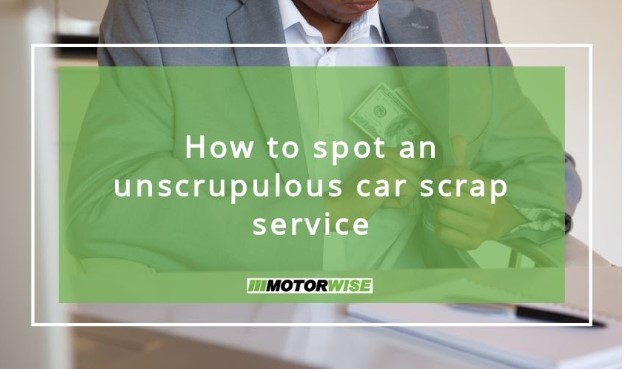 How to spot an unscrupulous car scrap service
Many car owners are put off scrapping their old vehicle due to a fear of scammers. If you don't understand the industry, you may worry that it's full of pitfalls for the unsuspecting customer.
In reality, the industry is highly regulated, with companies striving for the highest ethical and environmental standards. That doesn't mean there aren't a few unscrupulous operators out there looking to take advantage of the unsuspecting.
Here are some tips on how to spot scammers.
They make big promises
Unscrupulous operators sometimes promise to pay a minimum amount for any car they scrap. They put adverts online and in print that offer cash for any vehicle, no matter its make, age or condition. It can often be a significantly higher amount than you're being offered from a regulated car recycling company, and when you arrange for scrap vehicle collection, they never turn up.
In reality, these operators are looking for cars of a specific make or model with a high scrap value. They try and receive as many enquiries as possible to help them find them, so they're not interested in the vast majority of old cars.
They try to barter down their initial price
Any company that promises to scrap your car and then attempts to back down from the agreed price should raise your alarm bells. They may turn up to collect your car and tell you that it's in worse condition than they expected, then make a lower offer for it. They might also point out faults that have little impact on the scrap value, or they might suggest that paperwork is missing - which means the car is worthless - but still offer to take it off your hands. Although it's preferable if you have the car's VC5 in your possession, it is not essential. Providing the car is being supplied as a complete vehicle, the car's condition should not matter.
They turn up early
If you contact several companies before arranging to have your car collected by a reputable vehicle disposal company, you might find that a fraudulent one calls back. They may try to find out the name of the company, what price you were offered and the time it's due to be picked up. They will then turn up before your car is due to be collected and either pass themselves off as your agreed buyer or attempt to haggle on the price.
Disreputable operators damage the industry
Registered vehicle recyclers are angered by the activities of these unlicensed operators. If you use a reputable, trusted vehicle disposal service like Motorwise, you won't have to worry about people never turning up, or attempting to haggle on price. You'll also know that your vehicle has been disposed of responsibly.