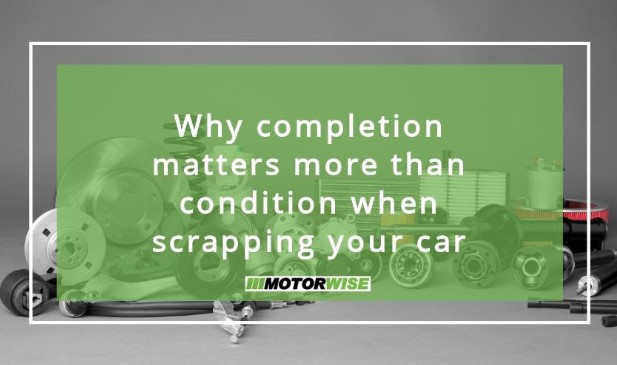 Why completion matters more than condition when scrapping your car
The time has come for you to get rid of your vehicle - whether it's uneconomical to repair, simply beyond fixing, or you don't have the time to try and sell it, scrapping your vehicle with responsible vehicle recyclers' is an easy path to ethical disposal. What many don't understand about scrapping their vehicle, however, is that a complete vehicle is far more important than one in good condition.
Completion over condition
When you go to sell your vehicle, the condition is everything. The mileage, the condition of the bodywork, the state of the engine and interior, the wheels - it all matters. The better condition everything is in, the more money you're likely to get from your vehicle from interested buyers.
Many buyers, understandably, take the same view when they think about scrapping their car. They think that the better the condition of the vehicle, the more they will get for it. But this is not the case - a complete vehicle in poor condition is worth more in scrap than a parted one in good condition.
Understanding how scrap value works
The key to this is to understand how scrap merchants determine value - when a vehicle is scrapped, it's valued on weight, and that's it. The make and model, the year, and the general condition do not matter. What matters is how much of the vehicle is actually there - the more there is, the more it's worth.
You need to take this into consideration because at the end of a car's life, many owners try to make a little extra money by "parting out" the car; namely selling individual parts. They presume when they've sold what they can, they can just contact a vehicle disposal service who will take the rest of it away.
The issue is that scrap merchants don't always want your car. Remember that they have to make some money on it too, so if there's not very much of your car left, it won't be worth their while to spend the money recovering and processing it. That can leave you with a vehicle shell nobody wants, and no way to get rid of it.
Making things easy
The takeaway from this is that when you decide it's time to scrap your vehicle, call the specialists immediately. It doesn't matter what condition it is, as long as it's complete, a vehicle recycling service such as Motorwise will take it off your hands easily and simply.