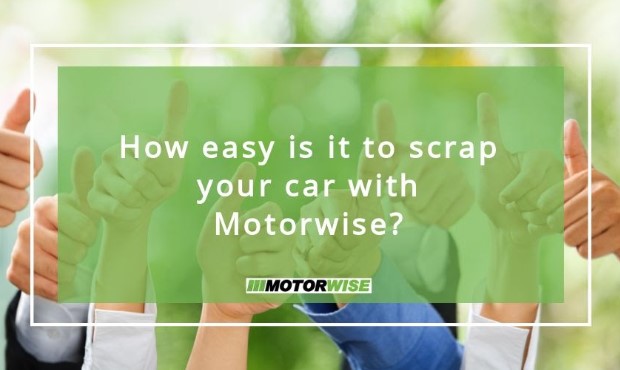 How easy is it to scrap your car with Motorwise?
When it comes time to scrap your car, it's important to choose a vehicle salvage service that you can trust. That's why you should always pick Motorwise - we operate nationwide and provide a reliable, efficient, and environmentally friendly service. But how do you actually get your car scrapped with Motorwise?
It couldn't be easier - it starts with getting your quote.
1. Input your car details and postcode
Getting started is as simple as putting your car registration and your postcode into our convenient calculator - based on the information you give us, we'll be able to automatically generate you a generous quote for your vehicle. We operate our vehicle salvage service nationwide, and so wherever you are in the country you can rely on us to come straight to your door to get your vehicle.
2. Organise the collection date
With the details of how much we're able to give you for your car, you will be able to accept our quote and confirm with us a time and date that suits you. We pride ourselves on making our service as easy for our clients to use as possible, so you can choose a date that fits your schedule. When the date arrives, one of our friendly team will arrive on time and ready to collect your vehicle.
3. Get paid and say goodbye to your car
Once we have assessed the vehicle for completion and both parties agree, we will load your vehicle onto our of our purpose-built transporters and take it off your hands. You will be paid the agreed price promptly, allowing you to get on with your life. All you have to do is fill in the yellow section of your vehicle's V5C and send it to the DVLA to inform them you've sold it for scrap - that's it.
The easier way than selling
Sometimes you know your vehicle isn't going to find a buyer - if it's in poor condition or has high mileage, it's often much easier, faster, and stress-free to simply sell it. Your car won't just be destroyed, at Motorwise we pride ourselves in ethical vehicle recycling. We'll process your vehicle, and as much as possible will be taken and reused for a variety of other useful purposes.
When it comes to getting rid of a vehicle you no longer require, this is how easy it is to do it with Motorwise, so contact us today for your quote.