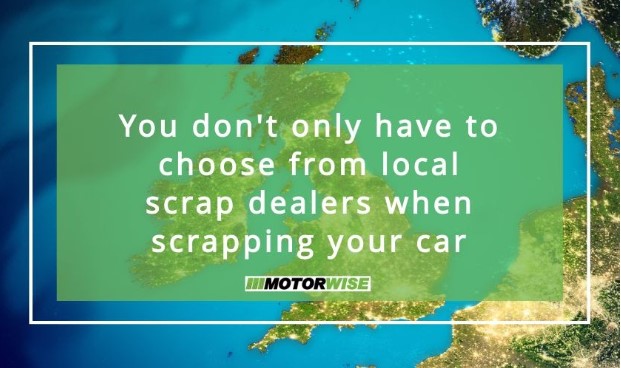 You don't only have to choose from local scrap dealers when scrapping your car
When it comes time to scrap your car, you may think that you only have local scrap dealers to choose from. This isn't the case, however, as due to the rise in technology there are now vehicle recyclers who operate nationwide. Motorwise is one such vehicle scrap service provider - we work with our customers around the country to provide them with an easy, efficient, and environmentally friendly way of scrapping their vehicle.
Why you should broaden your search
When you're looking for a scrap specialist to handle the collection and processing of your vehicle, you likely want to get the whole thing over with as quickly as possible. You want to organise the date of collection, get your money, and see the car gone to be salvaged with as little fuss as necessary.
The thing is, however, when you deal with local scrap merchants only you run the risk of only being able to choose between those who aren't offering the service you deserve. Whether it's inflexibility about when to collect the car or an unfair price about what your car is worth, you risk being unsatisfied.
If you broaden the horizons of your search you have a much larger pool of companies to choose from, so you can ensure you choose a reputable and reliable scrap specialist to handle your vehicle.
Making the right choice
When choosing who to trust the processing of your vehicle to, you want to make sure that you choose a scrap specialist that's going to offer you the service that you actually deserve.
At Motorwise, for example, we pride ourselves on the high-quality service we offer to our clients. We have our scrap processing specialists travelling throughout the country on a daily basis, handling customer cars. So wherever you are in the country, you can rest assured that we can offer you a booking time that works for you. We're punctual and our considerable experience allows us to be highly efficient loading your vehicle.
Distance doesn't matter when it comes to choosing a scrap specialist to scrap your vehicle - what matters is choosing a company that will make the process as easy as possible and give you a fair price. You may want your vehicle gone as soon as possible, but there's no reason to accept anything less than excellent service.
If you're looking to scrap your vehicle, Motorwise works throughout the country, so get a quote from us today.