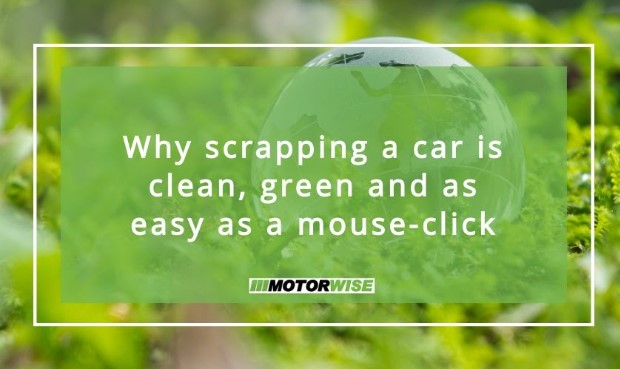 Why scrapping a car is clean, green and as easy as a mouse-click
Scrapping your old car is often imagined to be a messy, unfriendly hassle – but nothing could be further from the truth. In fact, with Motorwise, scrapping your car can be little more than a mouse-click away. And we'll pick up your old car and dispose of it responsibly, with an absolute minimum of fuss.
Here's why Motorwise works:
It's simple
Once you've accepted the instant online quote, you will be sent an email confirming the quote. Within 4 business hours of accepting the quote, you will be contacted by the appointed recycling centre or salvage buyer to confirm your details and payment method and arrange a suitable date and time for collection of your car.
With Motorwise, you can get a free quote, online in an instant. There's no obligation, but if you accept the quote, we'll send you a confirmation via email. Then the salvage centre or appointed recycling centre will be in touch within four business hours to arrange final details. They'll confirm your address and payment details and will agree on a date and time to collect your car.
And if you've any questions at any point throughout your experience, we're on the end of a telephone or contactable via email.
It's nationwide
Our network of authorised partners cover every area of the mainland UK, and will arrange to pick up your vehicle from your home. All you need to do is to ensure a standard recovery vehicle will be able to access your car safely and to be able to winch it onto a load bed if it is not possible to drive the car onto it.
Alternatively, you will be able to drop off your car at a local approved recycling centre, should you prefer.
It's professional
We only work with officially licensed. Authorised Treatment Facilities. These are the only businesses allowed to scrap your car, and will provide you with the correct Certificate of Destruction (CoD) when they do so
All ATFs that are part of our network have a licence to operate from Environment Agency, Scottish Environment Protection Agency or Natural Resources Wales.
You can also rest assured in the knowledge that we will recycle and dismantle all cars in as environmentally friendly a manner as possible – we are regulated and licensed by the Environment Agency and so are committed to minimising the environmental impact of getting rid of your car.
It covers every kind of reason for disposing of a vehicle
Whatever the reason for you needing to get rid of you're old car, we've got it covered with our network of recycling centres. So if you're vehicle's damaged and uneconomical to repair, an MOT failure, a non-runner, or mechanically faulty, our centres can recycle it or salvage it with the minimum of fuss.
Our nationwide network of salvage specialists and Authorised Treatment Facilities means we can provide the solution to dealing with your unwanted car, wherever you are in the UK.
To find out more about our car scrapping service, contact us at Motorwise today.