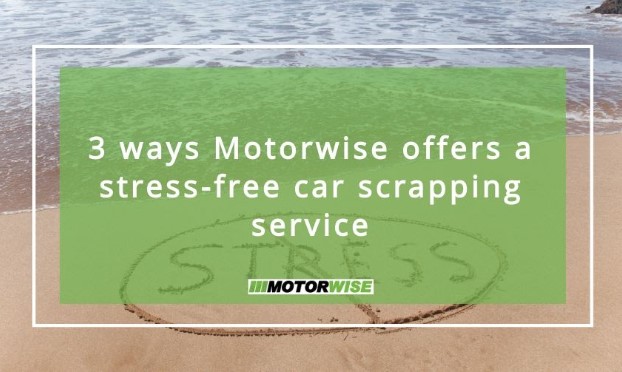 3 ways Motorwise offers a stress-free car scrapping service
Motorwise offers a unique approach to car disposal - offering customers an easy and stress-free way to get the vehicle recycling service that they're looking for. Here are three ways Motorwise makes getting rid of your old vehicle stress-free.
1. Convenience
With Motorwise you are in control of when you get your vehicle collected - this means it's easier for you to fit scrapping your vehicle in with the rest of your life. The date we arrive to collect the vehicle is up to you, so you can work it around your busy schedule. We have our vehicles travelling up and down the country on a daily basis to collect our clients' scrapped vehicles. When we arrive at your home or place of work, we'll collect your vehicle in a quick, time-efficient manner, meaning you don't have to waste time waiting.
2. Reliability
Another way Motorwise takes the stress out of getting rid of your old vehicle is by keeping our word and being reliable. When we say we'll be with you at a certain time on a certain date, that's exactly what we do. We pride ourselves on the quality of our customer service, which means sticking to our time windows and collecting vehicles on time. We understand that you are taking time out of your busy day to be there for us to collect your vehicle, the least we can do is turn up on time. This means you don't have to worry about stress, or having to take more time off work, or not being able to get anything else done with your day - it's a core part of our ethos.
3. Responsibility
Something else to consider about Motorwise is that we're not a normal car scrap service - we are vehicle recyclers, which means you get the peace of mind that comes from knowing your old car isn't just going to be crushed and abandoned. Instead, your vehicle will be processed in one of our specialist facilities, where all of the useful elements will be taken and can live on in other applications. With our green footprint a consideration in everyone's mind, this makes working with Motorwise the environmentally responsible approach to vehicle disposal.
Contact us today
If you are interested in scrapping your vehicle, make sure you choose the easy way and contact Motorwise today. We operate nationwide, so you can get your quote and arrange collection at a time to suit you.