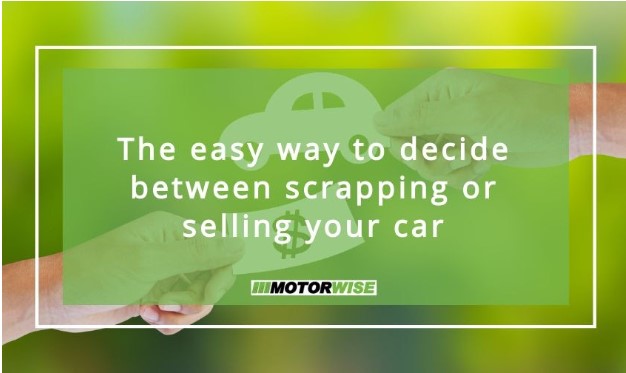 The easy way to decide between scrapping or selling your car
It can be difficult to decide whether you should sell or scrap your car. There are extensive reasons why you can consider both sides of the argument, but in reality, it comes down to one simple thing to give you your answer. When you've made your decision, if scrapping is your choice, you can contact the vehicle recyclers at Motorwise to help arrange the convenient and ethical collection and processing of your old vehicle.
But what is the key consideration that will help you make that choice?
Scrapping or selling - how do you decide?
You can consider a multitude of different things when choosing whether to sell your vehicle or to scrap it. The reality of it is, however, you only need to answer one simple question. That question is: what do you value more, money or time?
If the answer is money then selling your car at first glance may appear to be a better option. However, if scrapping is something you're considering, then your vehicle will likely not be in amazing condition and may make selling it time-consuming and challenging. Alternatively, you may decide to sell it for parts before scrapping what's left. This is something that may seem a good idea but could leave you with a bigger headache when trying to find a scrap car collection service for the remains as you may have removed too much value from the car. This may mean that instead of receiving payment for your scrap car, you will need to pay for the remains to be collected and scrapped.
Scrapping will appeal to you if you value your time and prefer convenience. Selling can be difficult: you have to advertise the vehicle and deal with potential time-wasters, as well as run the risk of being scammed. The car may also curry no interest, and you'll be stuck with it for a long time. When you scrap it, it can be gone from your life inside of a week.
That means it's a relatively simple choice.
If you decide to scrap, contact Motorwise
If you think scrapping your vehicle is right for you, contact Motorwise - we work nationwide, providing a reliable and environmentally-conscious vehicle recycling service. We'll arrange the collection of your vehicle at a time and date that suits you. We'll arrive on time and load your vehicle onto one of our specialist transporters, before taking it back to one of our facilities for processing.
All you need to do is fill in the yellow section of your V5C and send it to the DVLA to tell them you've scrapped your car. That's it! So, if you want the convenient option for getting rid of your car, contact Motorwise for a quote and to arrange collection today.