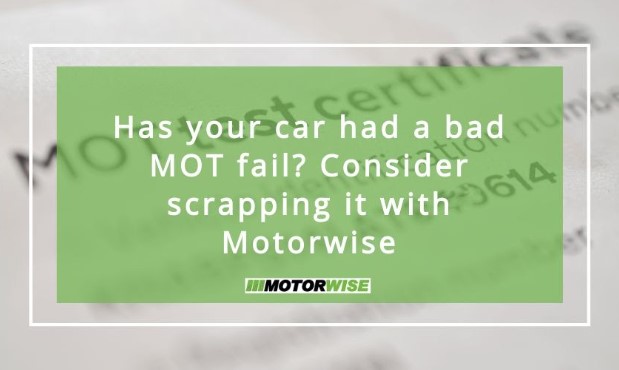 Has your car had a bad MOT fail? Consider scrapping it with Motorwise
Sometimes when your car fails its MOT, it's worth getting it repaired. The cost of getting the car fixed is nothing compared to what it would cost to buy a new car, so it makes sense. Sometimes, however, a particularly bad MOT failure can signal the car's end is almost near. Don't throw good money after bad, consider scrapping your car with Motorwise.
Making the choice to scrap
If a car has a few MOT failure notices it won't be too expensive to fix, versus the cost of buying a new car - which itself could have a number of problems lurking under the surface. Sometimes MOT failure points are relatively minor and can be fixed in a few minutes for next to no money.
Sometimes, however, an MOT failure is a clear indication that your vehicle's time is limited. If you have multiple failure notices relating to corrosion, for example, the costs of keeping that car on the road are going to be crippling. With certain things, the problems are only going to get worse over time too - so this kind of expensive MOT failure is simply going to become your new normal.
In that case, it's time to bite the bullet and scrap your vehicle. Of course, you want to make the process as simple and easy as you can, and you want the best value you can get.
Why choose Motorwise?
Choosing Motorwise should be a priority for you if you want to make sure the process of scrapping your vehicle is as stress-free and convenient as possible. It starts simply by contacting us, either by phone or using our online contact form. We'll give you a quote based on the details of the vehicle you provide. We constantly monitor the scrap market to give our customers the best prices we can for their vehicles.
If you accept the quote, you will have the option of arranging a collection at a time and date that suits you. We'll arrive, assess the vehicle, and if it's as you described it we'll arrange your payment in moments. With that, we'll take your vehicle away and process it - all you need to do is notify the DVLA. You can do this either by filling in the yellow section of your V5C if you have it, or writing a simple letter if you don't.
That's all there is to it - contact Motorwise for your quote today!